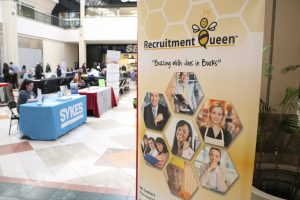 Just as there's night school for employees looking to advance their career, on March 22 there will be an evening job fair focused on helping those who are underemployed or seeking new opportunities find new prospects.
RecruitmentQueen's Bucks County Career Night will be held in Macy's court of Neshaminy Mall in Bensalem on March 22 from 5 p.m. to 8 p.m.
Jennifer Schultz, RecruitmentQueen CEO and founder, said this first-time evening career fair came after hearing job seekers say "I can't go because it's in the daytime." The common refrain was the impetus for her offering an after-hours career fair.
Over the last five years, RecruitmentQueen job fairs have hosted dozens of employers and as many as 1,000 job opportunities in a variety of fields, including customer service, healthcare, management, sales, banking, administration and more. Schultz said she expects a similar outcome this go-round.
In addition to finding new (or better) employment, RecruitmentQueen is partnering with a professional photographer to offer free headshot photos for use in LinkedIn profiles.
"Putting your best face forward is integral in expanding your professional network and ultimately landing that new job," Schultz said. "Recruiters often screen applicants on LinkedIn. Having a profile with a professionally shot photo will help you stand out."
RecruitmentQueen will add employers until soon before the event. In the meantime, the following employers have signed up to exhibit: Sykes, TMA Bucks, Salute2Service and Traffic Plan.
Job seekers will have the opportunity to network with and speak to local recruiters and hiring managers. Even though the career fair is held at a shopping mall where dress codes do not apply, job seekers should dress for success, according to Schultz. Professional attire is recommended. 
If you go 
RecruitmentQueen's Bucks County Career Night will be held in Macy's court at Neshaminy Mall, 707 Neshaminy Mall in Bensalem, from 5 p.m. to 8 p.m. on March 22. To learn more, or to register, job seekers can click here. Employers interested in attending the career fair can call Jennifer Schultz at 267-981-5976. 
About RecruitmentQueen  
www.RecruitmentQueen.com is a hyper-local digital recruitment job board dedicated to employers and job seekers in Bucks County, Pa. The site offers custom recruiting solutions including a job network portal. The Web site reaches thousands of job seekers across thousands of regional, industry, niche and diversity job sites and job search engines.