Provided by the Pennsylvania Attorney General's Office: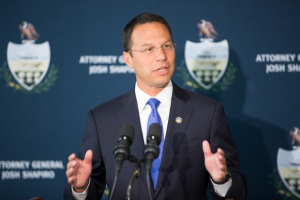 Pennsylvania Attorney General Josh Shapiro is alerting Pennsylvania consumers to a new twist on an old scam involving their Social Security numbers.
The scam differs from traditional Social Security scams because callers are telling consumers that their Social Security number has been compromised or suspended, rather than their usual tactic of saying it was stolen or demanding certain action to receive benefits. Some consumers alleged that the scam artists are impersonating government agencies and threatening arrest, saying that they must make an immediate payment in order to avoid jail time.
"My Office is warning consumers that scam artists are out in full force, employing new tactics to achieve their same nefarious goals," said Attorney General Josh Shapiro. "I urge Pennsylvanians to be vigilant of this scam and, if you believe that you have been victimized, please contact my Office immediately. We are here to protect you, and we are working hard to put an end to these scams."
These deceptive calls tell consumers that someone is using their Social Security number and scare them into making quick decisions that can be devastatingly costly. In one circumstance, D. Covert, 61, of Franklin, PA, received a call from someone claiming to be from the Social Security Administration who told him that his Social Security number had been compromised. Covert was alarmed because he had recently filed to start receiving his Social Security benefits. He then received a second call from a woman claiming to be from the County Sheriff's office who said that multiple credit cards were opened in his name to make payments linked to terrorist groups in foreign countries and aggressively threatened him with jail time. Covert purchased about $10,000 in gift cards and read their numbers to the scammers.
"These scam artists terrified me into thinking that my information had been compromised and that I was going to jail," said D. Covert. "I trusted the scammers because they told me that they were with the Social Security Administration and the County Sherriff's office, and I had just filed to start receiving my Social Security benefits a few days prior. As a result, I lost $10,000. I'm grateful that Attorney General Shapiro and his Bureau of Consumer Protection are doing everything they can to warn other consumers and make sure this doesn't happen to anyone else."
Consumers who feel that they have been victimized or received a call similar to this may file a complaint with the Office of Attorney General's Bureau of Consumer Protection by visiting the website, www.attorneygeneral.gov, or by calling the office at 1-800-441-2555.