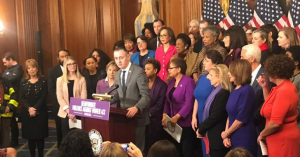 After the legislation lapsed in February, Congressman Brian Fitzpatrick and other lawmakers have joined together to support the Violence Against Women Act (VAWA.)
At a press conference last Thursday in Washington D.C., Republican Fitzpatrick joined with a group of Democratic congresswomen to announce they had support to reintroduce the legislation that protects domestic violence survivors and funds programs aimed at preventing it.
The legislation is co-sponsored by 38 Democrats and Fitzpatrick is the only Republican signed on. The bill has previously gained bipartisan support.
Democratic Speaker of the House Nancy Pelosi led the event and said there is "nothing partisan or political" about ending domestic violence.
VAWA ended in February after Republican President Donald Trump signed a spending bill that did not include the provision for funding the act.
"Congress must continue to aggressively combat domestic violence, sexual assault, and stalking by swiftly reauthorizing the bipartisan Violence Against Women Act (VAWA)," Fitzpatrick said. "While there is still considerable work to be done, VAWA has drastically improved our nation's response to safeguarding women and children from abuse and anguish. Congress has historically reauthorized VAWA with broad bipartisan agreement."
Fitzpatrick said he has seen the impact of domestic violence from his work in the FBI, adding law enforcement at all levels support reauthorizing the legislation.
Not reauthorizing VAWA has put women at risk, the congressman said.
The landmark legislation was first signed into law in 1994 and reauthorized several times over the years.
"The Violence Against Women Act Reauthorization Act of 2019 is crucial to the work we do in Bucks County with survivors of domestic violence every single day. Because of the countless lives that are saved by VAWA every day, this bill cannot be a partisan issue. We at A Woman's Place thank Congressman Fitzpatrick for his work on this important issue, are proud to support this bill and encourage this congress to move forward with the reauthorization of VAWA,"said Jen Hinds, director of advocacy and outreach at A Woman's Place.
Hinds said while speaking in Washington D.C. that A Woman's Place answers 4,000 hotline calls every year and interacts with 3,000 new clients. VAWA has helped funding the Doylestown-based nonprofit's shelter and programs that offer assistance to victims.
"It's vitally important Congress reauthorizes VAWA funds that support direct services in our community to victims of sexual assault, sexual harassment and stalking and primary prevention programs for children and youth that will lead us to a community free of sexual violence. I want to thank Congressman Fitzpatrick for leading on this issue," said Penny Ettinger, executive director of Network of Victim Assistance.
Among the legislation included in the VAWA reauthorization is Fitzpatrick's Combat Online Predators Act. The legislation will increase penalties for cyberstalking, especially against minors, and requires federal law enforcement officials to evaluate and update practices to combat this online harassment, the congressman's office said.