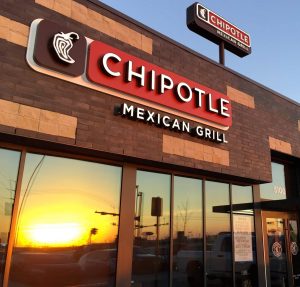 Chipotle Mexican Grill received the green light from the Newtown Township Board of Supervisors this week.
The Supervisors voted 5-0 to grant conditional use construct their fast-casual eatery at the under-renovation shopping center near the current location of the Bank of America off Durham Road.
The drive-thru plan was dropped and the 2,500-square-foot eatery will only feature takeout and a sit-in dining area. There will be space for customers to eat outside near a public space and performance area being constructed in the Village of Newtown Shopping Center. 
An attorney representing the project said the L-shaped building that will house Chipotle Mexican Grill and other businesses will be completed this year. The eatery could open before the end of 2019.
It has been long-rumored that Chipotle was looking to open in the Newtown area. NewtownPANow.com broke the news of the plan on March 1.
Chipotle currently operates Bucks County locations in Bensalem, Doylestown, Warminster, and Warrington. The company is planning to also open a restaurant near the Oxford Valley Mall in Middletown.