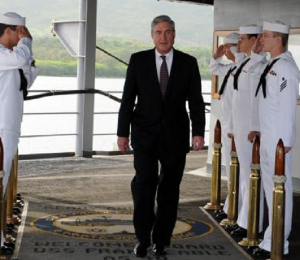 Congressman Brian Fitzpatrick and the two senators that represent Pennsylvania reacted Friday night to the submission of Special Counsel Robert Mueller's report on Russian government interference and other crimes related to the 2016 election.
The congressman, an attorney and former FBI special agent, released the following statement:
"As a former FBI Agent, I have consistently supported my former boss, Special Counsel Robert Mueller's investigation and have insisted on allowing it to proceed unimpeded. Now that it has concluded, the report must be made public and full briefings must be made to Congress. We must insist on 100% full transparency on all investigative matters and full disclosure to the public. Once that occurs, and once we respond accordingly, it is time to move on."
Fitzpatrick has supported allowing Mueller to complete his investigation without interference from President Donald Trump's administration.
"The special counsel must see his investigation through to the end," Fitzpatrick said last April.
Last week, Fitzpatrick supported a call for the special counsel's report to be made public. His spokesperson confirmed Friday night that the congressman's position has not changed.
In November, hundreds of people rallied outside Fitzpatrick's Middletown office to show their support for the Mueller probe.
Fitzpatrick wasn't the only federal representative in our region that commented.
"I commend the independent work and public service of Special Counsel Mueller and his team. This report was paid for with taxpayer dollars and must be made public as quickly as possible," Sen. Bob Casey, a Democrat, said in a tweet.
Republican Sen. Pat Toomey issued a statement in which he called for the attorney general to "be as transparent as possible about the investigation's findings with Congress and the public — consistent with the law and longstanding Department of Justice policy."
Previously, Toomey said he had "confidence" in Mueller but stated in November, according to LehighValleyLive.com, that Mueller should "wrap this up."
The Mueller team's completed report was handed over Friday afternoon to the U.S. Department of Justice and will be reviewed by U.S. Attorney General William Barr. As soon as this weekend, Department of Justice officials will brief lawmakers and possibly make the report or parts of it public.
Mueller's criminal and counterintelligence investigation began in May 2017 and led to 34 individuals – including Trump's campaign chairman, his first national security adviser, and a longtime political adviser – and three Russian organizations being charged. It also has led to several investigations being spun off.
Mueller's team sent out a statement to media that the office was winding down operations following the submission of the report. Several news outlets reported no further indictments from the office are expected.