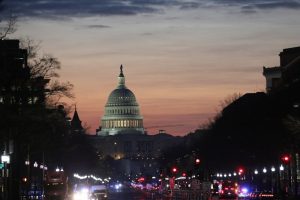 The House of Representatives voted to renew the Violence Against Women Act (VAWA) on Thursday.
Republican Congressman Brian Fitzpatrick, who cosponsored the legislation, voted in favor of the reauthorization. The final tally was 263 to 158. A total of 33 Republicans joined Democrats to vote for the legislation that came with some new additions.
The legislation's changes include a new rule to bar a person from buying a firearm if they have a misdemeanor domestic abuse conviction. The previous version of the law bars those only convicted on felony charges. The new legislation also would expand blocking those convicted of stalking a former intimate partner from owning a firearm.
The politically powerful National Rifle Association (NRA) did not support the bill due to the changes on firearm prohibitions.
The updated VAWA would also include a change to allow for transgender abuse victims to be included, while expanding programs to tackle bullying, expand education programs, add training in schools, update grants for law enforcement and victim services' groups, add penalties for cyberstalking children, and refresh SMART Prevention Programs to reduce dating violence, and engage men in preventing violence.
Fitzpatrick co-sponsored the bill with Democratic Congresswoman Karen Bass, who represents a portion of Los Angles. The congressman has been pushing the legislation for weeks and has made numerous national media appearances supporting it.
"This is not a partisan issue which is why I put a special emphasis on working to build bipartisan support for this critical legislation. I'm also happy to see my Combat Online Predators Act included in this legislation which will increase penalties for predators who cyberstalk children," Fitzpatrick said.
Pennsylvania Attorney General Josh Shapiro and Gov. Tom Wolf, both Democrats, applauded Fitzpatrick for his support of VAWA.
In Washington D.C. for the vote were advocates for Bucks County-based A Woman's Place and Network of Victim Assistance (NOVA.)
"Because of the countless lives that are saved by VAWA every day, this shouldn't be a partisan issue and I was happy to see the bipartisan cooperation Congressman Fitzpatrick helped foster. We at A Woman's Place thank Congressman Fitzpatrick for his work on this important issue, are proud to support this bill and encourage the Senate to move forward with the reauthorization of VAWA," Jen Hinds, director of advocacy and outreach at A Woman's Place, said in a statement.
Penny Ettinger, executive director of NOVA, thanked the congressman and said the legislation will "allow the expansion of personal safety programs for children and youth that will lead us to a community free of sexual violence."
VAWA was enacted in 1994 with bipartisan support and lapsed in February.