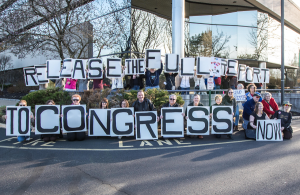 More than 100 local activists and residents showed up outside Republican Congressman Brian Fitzpatrick's office on Thursday evening as part of a nationwide rally to demand U.S. Attorney General William Barr release the report on Special Counsel Robert Mueller's investigation into Russian government interference in the 2016 election and other related crimes.
The rally outside Fitzpatrick's district office at the One Summit Square building overlooking Langhorne-Newtown Road and the Newtown Bypass in Middletown included speakers from Lower Bucks Indivisible, Indivisible Lambertville New Hope, and PA Statewide Indivisible. The group took a photo, which was later featured on liberal commentator Rachel Maddow's MSNBC show, holding a large sign that read "Release the full report to congress now."
Many of those at the rally also stuck sticky notes to the door of the congressman's office. Some read: "thanks for wanting the full report released," "do something – release the report," "stop the corruption," and "stay strong and we will stay behind you."
"We have a right to expect honesty and transparency from our government," Laura Rose, grassroots organizing chairperson for PA Statewide Indivisible. "After 22 months of investigation, 199 criminal charges, 37 indictments or guilty pleas, and 5 prison sentences given to people connected to Trump or his campaign, a cursory summary of the Mueller Report from the Attorney General is simply not acceptable. We demand that he release the full report."
Fitzpatrick has been vocal in supporting the release of the report and supported allowing Mueller to complete his investigation without interference from President Donald Trump's administration.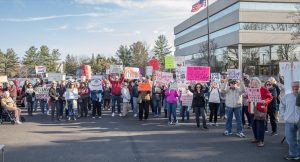 "The report must be made public and full briefings must be made to Congress. We must insist on 100 percent full transparency on all investigative matters and full disclosure to the public. Once that occurs, and once we respond accordingly, it is time to move on," Fitzpatrick said.
Barr has not released a detailed summary of the report or allowed congress to review the entire document, but noted in a four-page memo that the investigation did "not establish that the President was involved" in any crime related to Russian government interference in the 2016 election. Barr's summary was not very detailed and reporting from multiple news organization's this week noted that important information in the report was left out.
The attorney general has stated that he plans to release more information from the report by mid-April.
Mueller's criminal and counterintelligence investigation began in May 2017 and led to 34 individuals – including Trump's campaign chairman, his first national security adviser, and a longtime political adviser – and three Russian organizations being charged. It also has led to several investigations being spun off.