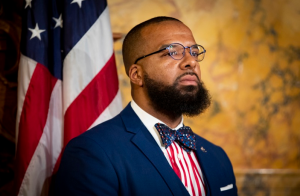 Brandon Flood knows the state pardon process first hand.
The 36-year-old who took the job this week as the new secretary of the Pennsylvania Board of Pardons was pardoned by Democratic Gov. Tom Wolf earlier this year for convictions of possession with intent to deliver cocaine when he was 17 and an unlicensed firearm violation when he was 22.
Flood's pardon process took about three years and the various setbacks he encountered are his inspiration for reforming the process through policy changes and support of legislation.
The former felon said his experience and his more recent work for state legislators and agencies gives him an advantage when tackling pardon reform.
Flood and his small team will process all the state's clemency applications, set up background checks for the applications, and present information to Lt. Gov. John Fetterman and the four other voting members of the Pennsylvania Board of Pardons.
Following Wolf's calls for criminal justice reform, the Pennsylvania Board of Pardons last month scrapped a $63 application fee that previously could be a barrier for those convicted of crimes.
Flood was not shy during a press conference this week talking about his past trouble with the law.
"Like many young men in our nation's inner cities, I foolishly viewed the selling of illegal narcotics as a quick and easy way out of poverty," he said.
Leading up to his second conviction, Flood illegally purchased a firearm to protect himself after being shot three times by an unknown assailant in Harrisburg, and police later seized gun during a routine traffic stop.
Between his two cases, he spend a total of nine years in prison and took advantage of rehabilitation programs while in prison. At State Correctional Institution Chester, Flood served as the editor of the facility's newsletter, "The Lowdown," and took part in public speaking courses and debate programming by Temple University. Once released, he started an internship with the House of Representatives Health & Human Services Committee and began his career in public service.
"His personal insight gained after being the deserving recipient of pardons can inform the direct and poignant changes we intend to make. This is exactly who we need to step into this role, and I'm proud to be working with him to improve our whole system," Fetterman said.