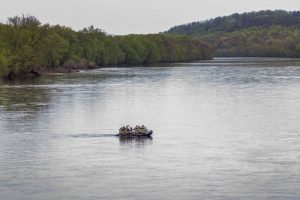 The Pennsylvania Department of Environmental Protection will soon begin work to spray the Delaware River to control pesky black flies.
No date for aerial and backpack spraying of the Delaware River has been announced, but it will begin as water levels drop and weather conditions allow, state officials said.
According to the Pennsylvania Department of Environmental Protection, Bti, a naturally occurring bacterium, will be used to treat waterways for the larval stage of four specific human pest black fly species.
"This bacterium degrades quickly in the environment and does not harm the aquatic ecosystem, birds, or other insects," state officials stated.
The spray will be deployed by helicopters and also ground crews using backpack sprayers off bridges and wading in streams.
"As warmer weather returns, black flies are a pest that can inundate folks seeking outdoor recreation, especially around rivers and streams," said Pennsylvania Department of Environmental Protection Secretary Patrick McDonnell. "Using environmentally compatible methods, this annual initiative reduces this nuisance so that Pennsylvanians can enjoy our natural resources."