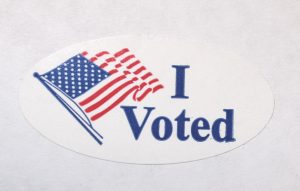 Are you a Democrat or Republican looking to vote in the May 21 municipal primary?
If you're not registered, Monday is your last day to do so.
To be eligible to vote to choose the nominees for judicial and local government positions in the closed primary, citizens must be registered as a Democrat or Republic to cast ballots to pick their parties' general election nominees.
Bucks County officials said voter registration forms will be available Monday at the Bucks County Administration Building at 55 East Court St. (2nd Floor) in Doylestown from 8 a.m. to 5 p.m., Lower Bucks Government Services Center at 7321 New Falls Road in Levittown from 8:30 a.m. to 4:30 p.m., and Upper Bucks Government Services Center at 261 California Road in Quakertown from 8:30 a.m. to 4:30 p.m.
In addition, eligible voters can register by mail or apply in person at a county voter registration office; county assistance offices; Women, Infants & Children (WIC) program offices; PennDOT photo and drivers license centers; Armed Forces recruitment centers; county clerk of orphans' courts or marriage license offices; area agencies on aging; county mental health and intellectual disabilities offices; student disability services offices of the State System of Higher Education; offices of special education in high schools; and Americans with Disabilities Act-mandated complementary paratransit providers.
Voter registration applications must be postmarked by Monday, April 22.
Acting Pennsylvania Secretary of State Kathy Boockvar said Pennsylvanians can use the Online Voter Registration (OVR) to register quickly.
"Voting makes our democracy work. And when you vote in municipal elections you are helping to make the decisions that will most affect your local community," Boockvar said.
Individuals wishing to register to vote in the May 21 primary must be:
A citizen of the United States for at least one month before the primary.
A resident of Pennsylvania and of the election district in which the individual plans to register and vote for at least 30 days before the primary.
At least 18 years of age on or before the date of the primary.