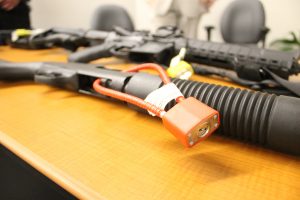 It has been about two years since Ben's Campaign to distribute free gun locks in Bucks County launched.
On Tuesday morning in Doylestown, staff from the Lenape Valley Foundation, the Bucks County Area Agency on Aging, and Central Bucks Rescue Squad joined with law enforcement officials to announce the program was expanding its focus.
While the effort has been focused on providing gun locks countywide with the intention to keep firearms out of kids' hands, it's now aiming to distribute them to senior citizens and families dealing with dementia and other chronic conditions that impact cognitive abilities.
Last summer, Kaiser Health News poured over media reports, court records, hospital data, and public death records to uncover 15 homicides and more than 95 suicides since 2012 linked to those with dementia. The cases covered those who used firearms to kill or hurt themselves or others.
Bucks County has 114,000 senior citizens and approximately 51,000 of them are estimated to be gun owners. Bucks County Area Agency on Aging Director Kathy Bennett said more than 10,000 senior citizens in the county have an illness that impacts their cognitive ability.
"Given the factors of suicidal rates of elderly men, and factors such as dementia or other cognitive issues impairing judgement, we felt that the county would benefit from education about this issue," Bennett said.
Sharon Curran, CEO of the Lenape Valley Foundation, said gun locks are critical to prevent gun access.
"The method of suicide matters," Curran said. "Restricting access to guns while someone is in an active suicidal state can save lives. This is not about gun control, but safe gun ownership."
Ben's Campaign uses cable-style gun locks that are provided by Connecticut-based gun safety organization Project ChildSafe. The local program is supported by Network of Victim Assistance (NOVA), which has created gun safety information that goes with the gun locks.
Ben's Campaign is named in memory of 2-year-old Benjamin Smith who died after picking up his U.S. Army veteran father's gun that was accidentally left on a nightstand and shot himself in thorax on the morning of September 12, 2016 in Milford Township in Upper Bucks County.
"Although Ben's Campaign was borne out of the tragic, 100 percent preventable death of 2-year-old Benjamin Smith, our campaign has made great strides in protecting our children through this free gunlock distribution program," said Bucks County District Attorney Matt Weintraub.
"By expanding our reach, we want to capitalize on that success," he said.
The district attorney noted that there has not been any accidental shooting deaths of children in homes since the campaign began in April 2017.
Ben's Campaign will host public gun lock demonstrations this June:
Thursday, June 6 at ​​​7 p.m. at the Bristol Township Senior Center, 2501 Bath Road, Bristol Township
Wednesday, June 12 at 1 p.m. at the Ben Wilson Senior Center, 580 Delmont Avenue, Warminster
Wednesday, June 19 at 1 p.m. at the Pennridge Community Center, 146 E. Main St., Silverdale