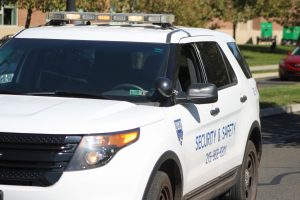 UPDATED: Tuesday, 2:55 p.m.:
In the end there wasn't an active shooter, but an alert sent through Bucks County Community College's notification system caused a scare Tuesday afternoon.
Community college spokesperson Jean Dolan said the report turned out to be unfounded.
At 12:33 p.m., the community college had a fire alarm activated in one of its buildings at the main Newtown Township campus. As the facility was being cleared, a student overheard a peer mention something about an active shooter and security was called.
Security officers began investigating the call and prepared a possible alert, which ended up being sent at 12:49 p.m. via text message and email.
Within three minutes of the alert being sent, the community college sent an update to announce the report was unfounded, Dolan said.
It was determined that the fire alarm was set off by balloons that interfered with the safety system.
Original Story:
An alert text message went out to Bucks County Community College students Tuesday afternoon warning of an active shooter at the Newtown Township campus.
The alert went out shortly before 1 p.m., according to NewtownPANow.com readers.
Within minutes, the community college recalled the message and said the incident at the Newtown Township campus was "misreported." They stated campus security did investigate the incident.
More information as it is available.