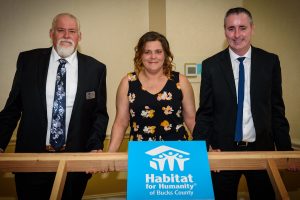 Habitat for Humanity of Bucks County announced their fundraising gala last weekend pulled in $125,000 for the nonprofit.
The funds will support the group's homeownership and home repair programs that benefit Bucks Countians.
The "Hard Hats and High Heels" gala at Spring Mill Manor in Northampton was attended by 225 guests.
Tina Nicol-Grady, a former Tullytown councilperson who worked with Habitat for Humanity of Bucks County to build her family's home in Morrisville Borough, spoke before the attendees and told them about how her family fulfilled their homeownership dream, including a residence accommodations for their special needs son, through the nonprofit.
"This family was overwhelmed by the help of volunteers, donors, and community partners who gave so generously to make their new house possible," said Florence Kawoczka, Habitat for Humanity of Bucks County executive director. "The home is the symbol of their hard work, patience and courage in the face of adversity."
The event was emceed by HGTV and DIY Network host Jeff Devlin.
Wells Fargo was named partner of the year and Woodside Church received the Spirit of Habitat Award.
An auction was also held where furniture and household goods upcycled by professional interior designers and decorators found new homes. The items were from Habitat for Humanity's ReStores.
"We are grateful to our donors, staff, volunteers, and community members for making our annual fundraiser such a success," said Mike Keim, president of Habitat for Humanity of Bucks County's board of directors. "Their support makes it possible for us to continue providing homeownership opportunities and home repairs that are affordable for our neighbors in Bucks County."