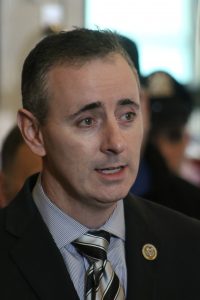 Only eight Republican members of congress voted for legislation that aims to update the 1964 Civil Rights Act by adding provisions for sex, sexual orientation, and gender identity last week.
Congressman Brian Fitzpatrick, of Middletown, was among the small group of Republicans who voted in favor of the Equality Act. The bill passed the House of Representatives 236-173.
The Equality Act would update the 1964 Civil Rights Act to ban discrimination based on sex, sexual orientation, and gender identity in housing, education, housing, credit, jury service, and public accommodations. It would standardize rules that often vary from state to state.
"LGBTQ Americans are part of the fabric of our society and should be free to exercise the rights guaranteed to every American by the Constitution to participate fully in our society and pursue every opportunity. The Equality Act will protect Americans from discrimination on the basis of sexual orientation and gender identity because discrimination against the LGBTQ community is an injustice which must be confronted," Fitzpatrick said in a statement to NewtownPANow.com.
Some Republicans last week made the argument that bill would infringe on religious Americans rights.
Reuters reported that Republican President Donald Trump's White House said that he opposed the bill.
The bill has not yet been voted on by the Senate.