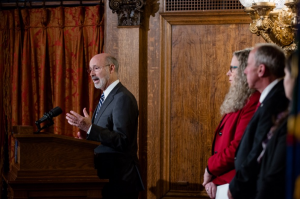 Pennsylvania Gov. Tom Wolf renewed his vow this week to veto any legislation that infringes on the rights of women to make their own healthcare choices, including abortion.
The affirmation from the Democratic governor comes in the wake of approval of legislation that would limit a woman's ability to chose in Missouri, Georgia, and Alabama, and as the Pennsylvania legislature is advancing a new abortion ban.
"Reproductive freedom is under assault across America," Wolf said. "The right for women to make their own health care decisions is being corrupted by politicians pushing a cynical and dangerous political agenda. These bills are an attempt to criminalize the decisions that women make about their own health care. Horrifyingly, in multiple states, legislation seeks to destroy abortion rights for victims of the horrors of rape and incest."
"Let me be clear: I will veto any attempt by politicians to insert themselves in the doctor-patient relationship and ban abortion," continued Wolf. "From Alabama to Georgia to Ohio to Pennsylvania, women deserve better from their elected leaders."
In 2017, Wolf vetoed a bill that would have criminalized abortion after 20 weeks with no exceptions for rape, incest, health, or tragic fetal anomalies and banned a common procedure used by doctors.