By Dave Fidlin | The Center Square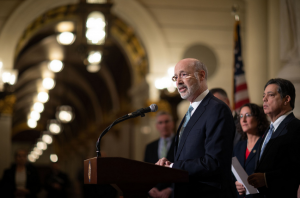 Pennsylvania Gov. Tom Wolf's state budget proposal garnered attention in a number of areas earlier this year, most notably his call to more than double the minimum wage in the next half-decade.
Lawmakers on both sides of the partisan divide have been wrangling over Wolf's proposed minimum wage hike, which, as presented, would first increase it from the current federal minimum standard of $7.25 per hour to $12 per hour.
Within the next five to six years, Wolf's proposal calls for an additional minimum increase, ultimately boosting it to $15 per hour.
In the walls of the state capitol, Republican and Democrat elected officials in both branches of government have been weighing in on the hot-button topic.
Across Pennsylvania, a number of policy organizations and think tanks have been following suit with their own positions on the issue.
Alex Halper, director of government affairs with the Pennsylvania Chamber of Business and Industry, said there are a number of unintended consequences that could arise if Wolf's proposal does indeed come to fruition.
The chamber, a statewide organization, has more than 10,000 members in disparate sectors, public and private, for-profit and nonprofit.
The prospect of job losses or reduced hours has been a common topic within conservative circles, but Halper said there could be even greater ripple effects.
The minimum wage rate increase would not only impact retailers and restaurants, Halper said. School districts, local governments and nonprofit organizations are other entities that might have to make sizable changes to comply with the provisions Wolf has laid out.
"This might be something that works in Harrisburg," Halper said, pointing to increases that have been given to state employees. "But in the real world, there are so many factors out there – it's really far more complicated."
But other organizations, echoing sentiments made from some of the state's Democratic lawmakers, have pointed to the stagnant wages for minimum wage earners and have touted Wolf's call to lead by example.
Marc Stier, director of the Pennsylvania Budget and Policy Center, said he viewed Wolf's proposal as one impacting all workers – not just those earning the minimum wage.
"By proposing a significant increase in the minimum wage, (Wolf's) budget points the way to a future in which wages and benefits – and, thus, living standards, rise for all," Stier said.
From the center's perspective, Stier said raising the state's base wages serves as a launchpad for "driving our economy forward as people gain the means to purchase the goods and services that enable them to live increasingly comfortable lives."
According to statistics from the office of Jerry Oleksiak, secretary of the Pennsylvania Department of Labor and Industry, an estimated 106,000 workers across the state are earning the minimum $7.25 per hour wage.
Two-thirds of Pennsylvania's minimum wage earning workforce are age 20 and above, according to statistics Oleksiak shared at a House Appropriations Committee hearing in February.