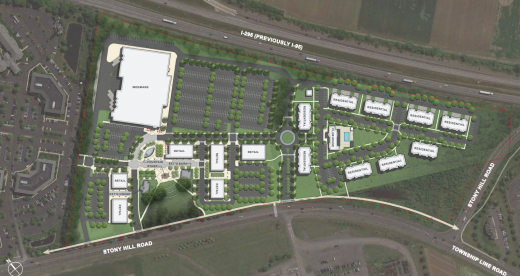 A new mixed-use development could bring a Wegmans supermarket to Lower Bucks County.
The proposed development in Lower Makefield would include the Wegmans as the anchor tenant with six buildings for retail nestled on a Main Street-esque area along with nine upscale residential apartments buildings with a community clubhouse and pool.
The DeLuca Homes and Equus Capital-backed development called Prickett Preserve at Edgewood in plans would be built on the more than 30-plus acre property along Stony Hill Road across from the Shady Brook Farm and abutting the Lower Makefield Corporate Center.
According to county property records, the land, which sits about 2,500 feet from both Middletown and Newtown Township's borders, is owned by the Prickett family and Shady Brook Investors. CL Prickett Antiques operates several buildings that sit on the mostly undeveloped land.
The plans for the retail shopping area call for retaining an existing old house and barn that would fit in the development. A stage, courtyard, grass sitting area, and fountain would also be part of the retail area.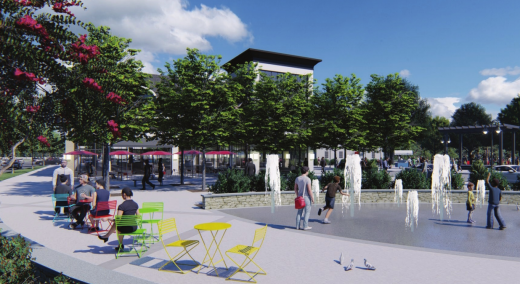 The property sits just off I-295 and the Newtown Bypass. It is only minutes from Route 1 and easy access to the Pennsylvania Turnpike.
Wegmans, which is known for its large selection and hot food bar, has sought a site in Lower Bucks County for years. The Rochester, New York-based, family-owned supermarket chain already has close to 100 locations throughout the northeast. Consumer Reports readers have ranked Wegmans the top grocery store several times over the past 15 years.
The nearest Wegmans stores are in Warrington, Princeton, New Jersey, and in Mt. Laurel, New Jersey.
The Bucks County Advance, which first broke the story, noted that the plans were to be presented before the Lower Makefield Board of Supervisors Wednesday evening.