By Dave Lemery | The Center Square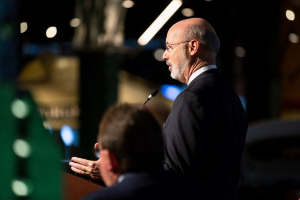 Pennsylvania House Bill 800, which would have allowed tens of thousands of families in the state greater access to school choice opportunities, was vetoed Tuesday by Gov. Tom Wolf.
The veto was expected after the governor had made public statements that he would do so after the passage of the legislation last week. Nonetheless, the governor's decision to veto the legislation that would have dramatically expanded the popular program marks a significant clash between the Democratic executive and Republican leaders in the Legislature who had pushed for the bill.
Sponsored by Republican House Speaker Mike Turzai, HB800 would have more than doubled the cap on the Educational Improvement Tax Credit program with a $100 million increase. That would have allowed even more companies to fund scholarships that allow families to send their children to a variety of private, charter and parochial schools. In 2018, about 50,000 families were unable to make use of EITC funds because the program hit its cap.
Wolf, in his veto statement Tuesday, said that he couldn't see expanding the EITC program without first considering public school funding.
"We have public schools that are structurally deteriorating, contaminated by lead, and staffed by teachers who are not appropriately paid and overstretched in their responsibilities," Wolf said. "Tackling these challenges, and others, should be our collective priority."
The governor also had issues with a number of the provisions of HB800, including the increase to the maximum income level of participating families to $95,000 and the plan to increase the EITC limit an additional 10 percent in future years if the usage of the tax credit continues to come close to hitting the cap.
"According to the Department of Revenue, the amount of General Fund revenue that will be lost over the next five years on account of this bill is over $650 million," Wolf said. "This is a staggering sum in a relatively short period of time without a single dedicated revenue source."
He also seemed to cast doubt on the very concept of the existing EITC, arguing that there's insufficient information about how students in charter and private schools are performing.
"The EITC lacks proper accountability and oversight, and little is known about the educational outcomes of students participating in the program due to a reporting loophole in the current law," he said. "Even less is known about the scholarship organizations that retain up to twenty percent of each dollar that is supposed to pass through them and are subsidized heavily by taxpayers."
Turzai, in a statement after the veto, said the connection the governor made between EITC and public education funding was not valid.
"The notion that we are neglecting our public schools is disingenuous," Turzai said. "Rather, we have increased investments in public education K-12 to record levels. What we have neglected to provide is adequate support for those families who are looking for an alternative choice."
Turzai noted that the current EITC program represents less than one percent of all education spending in the state, at 0.5 percent, and if HB800 was passed, that would still be just 0.8 percent.
The governor's action also drew criticism from the nonprofit Commonwealth Foundation, a public policy organization that has long advocated for increased school choice options. In a news release, the foundation noted that Wolf's company had taken part in the EITC program that he lambasted in his veto message.
"Gov. Wolf's own company donated $60,000 to this program while he was at the helm, receiving $54,000 in tax credits in return," said Charles Mitchell, president and CEO of the foundation. "And though Gov. Wolf attended an elite private school which now charges $60,000 in annual tuition, he now says his goal is 'educating every child through our public-school system.'"
Mitchell called into question Wolf's assertion that school choice initiatives were causing harm to the public school system.
"State education funding has increased by $1.5 billion under Gov. Wolf's administration, while school districts now hold $4.6 billion in reserve funds," Mitchell said. "Pennsylvania ranks 9th in the nation in school spending. In fact, a new study shows the EITC saves public schools billions of dollars, by educating low-income students at a fraction of the cost."
Republicans could attempt to override the veto but the initial vote was along party lines and they don't hold a supermajority of seats in either chamber to successfully do so without Democratic support.