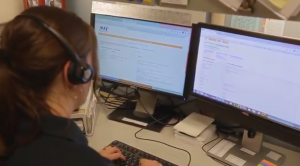 A new phone and online service designed to connect locals with important resources has gone live.
After months of working with health and human services providers and nonprofits, the United Way of Bucks County introduced the 2-1-1 hotline for Bucks County. The number is staffed around the clock and case workers on the phone will easily be able to refer callers or those who contact them via the service's website to resources to aid with food insecurity, financial problems, housing and utility issues, childcare, mental health issues, drug use, employment, transportation problems, disaster relief, and legal aid.
The 2-1-1 service streamlines the process people in need use to get assistance.
United Way of Bucks County CEO Marissa Christie said data shows that the average person looking for help calls six different places before finding what they need.
"With 2-1-1, this makes it easier," she said during a sit down interview with NewtownPANow.com.
Bucks County is the last county in Pennsylvania to join the 2-1-1 service, which is staffed by case workers and referral specialists at a call center in Allegheny County.
Nationally, 2-1-1 services are offered to 93 percent of the U.S. population.
Christie said the United Way of Bucks County continues to update more than 500 contacts that the call center specialists use to direct callers to the right resources.
A recent test of the online text 2-1-1 system that Christie carried out led to the specialist providing correct information within a minute or two.
While 2-1-1 was always available to Bucks Countians, the area wasn't formally part of the program and did not include a full referral database.
"You may have called from Levittown or Quakertown and been referred to services in Northeast Philadelphia or sometimes the Lehigh Valley," Christie said, adding the service is now tailored to the county.
"In Bucks County, we will be measuring success both by the number of people who use the service and the quality of service people receive. Calls will be monitored for quality and we'll also be following up with 10 percent of people who contact 2-1-1 to be sure they got what they needed and were happy with the service," said Danielle Bush, director of community and volunteer engagement at the United Way of Bucks County.
The 2-1-1 staff will be able to create reports that will be sent to the local United Way. The data will be used to see where the need exists.
"The generated reports by area will help us see what is needed most and where," Christie said.
Christie pointed to the many ways 2-1-1 has been used across the country in recent years. She noted that following disasters 2-1-1 has been used to coordinate storm clean up, it was used after a mass shooting in Pittsburgh, and even connected elderly residents with people willing to help clear snow following a massive storm up in the Erie area.
The addition of 2-1-1 has been long in the works at the United Way of Bucks County.
"We've been exploring this since early 2010 when he assembled a team to look at referral services," Christie said.
The United Way funds 2-1-1 nationally, and the program does not receive federal dollars.
Staffing a statewide call center with specialists helps keep the program's cost down and makes it easier to run, Christie said.
Using the statewide call center, which is broken up by geographic region, saves the United Way of Bucks County the cost of having to employ full-time specialists to answer calls around the clock every single day of the year.