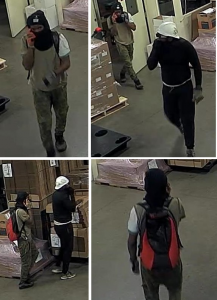 Police continue to investigate last month's attempted robbery of a large pharmaceutical firm facility in Newtown Township.
On Monday, police said they had developed evidence that several individuals were on the property of KVK Tech on Campus Drive, the former Lockheed Martin campus, over the course of several days around the time of the attempted robbery.
Additional images of suspects has been released.
Information that has aided investigators has come from the public, authorities said.
Police said around 4:35 a.m. on June 10, security staff at KVK Tech encountered two men who had entered the facility and demanded to know the location of drugs on site. The security guards advised the men the site did not have any drugs. Two security guards ended up being forced in an office and threatened by the suspects. 
The two men fled the facility on foot. 
Anyone with information has been asked to contact the Newtown Township Police Detective Division at 215-579-1000 ext. 288.