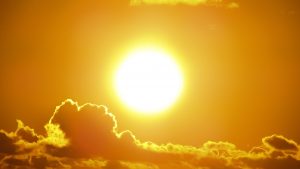 While it may seem obvious, kids and pets die after being left in vehicles during summer again and again.
San Jose University's Department of Meteorology and Climate Science statistics show that 792 children have died in the U.S. due to vehicular heatstroke between 1998 and 2018. Federal data shows that 52 kids died last year after being left in or being trapped in a hot vehicle.
"Temperatures in vehicles on hotter days can increase to dangerous levels in very little time, and leaving a child or a pet in that circumstance can mean the difference between life or death," PennDOT District 6 Executive Kenneth McClain said. "If you are leaving your vehicle for a quick errand, make sure your children and pets are never left behind in your car."
The National Highway Transportation Safety Administration said that vehicular heatstroke hits kids when their body temperatures reaches 104. At 107 degrees, pediatric vehicular heatstroke is fatal.
Among the leading causes of vehicular heatstroke is caregivers leaving children inside. Often times, the caregiver thinks they dropped off the child at preschool or at a daycare center.
PennDOT provided tips to help avoid any tragedy:
Stay alert and always be aware of your children in the back seat.
Leave a package or a personal item you need for the day in the backseat with the child, so you are prompted to open the back door as soon as you park.
Create an electronic reminder for yourself to check on the kids before you lock the car.
Always look before you lock to make sure no children or pets are forgotten.
PennDOT also advised drivers to lock their vehicle doors so no kids can accidentally get inside or become trapped.
Inside an unattended vehicle, the temperature can reach as hot as 200 degrees, according to the National Weather Service.
"Pennsylvania's newly passed 'Good Samaritan' law protects citizens from liability for rescuing children left alone in hot vehicles if they made a good faith effort to contact the vehicle's owner and emergency responders. Last year a similar law went into effect for pets that allows police officers and first responders to enter a hot vehicle to save the life of a dog or cat," PennDOT said.
While there hasn't been any cases of anyone dying in unattended vehicles in Lower Bucks County in several years, 2-year-old Daniel Slutsky died after being left for seven hours in a hot vehicle in July 2009 while under the care of a neighbor who owned a daycare center in Penndel. In July 2010, severely autistic Bryan Nevins, a 20-year-old Woods Services resident, died after being left in a hot van for five hours on the Middletown campus. Four years later, a 4-year-old special needs boy was rescued in Bristol Township's Croydon section after being left in a Bucks County Intermediate Unit van for close to three hours. The boy recovered.