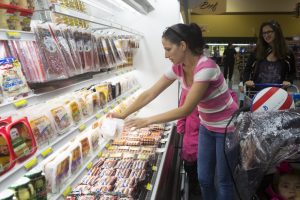 Pennsylvania officials criticized a federal proposal to make changes to a program that assists low-income families.
The reaction from the administration of Democratic Gov. Tom Wolf followed word last week that Republican President Donald Trump's administration proposed rule change that Fox News reported could cut 3 million Americans from the Supplemental Nutrition Assistance Program (SNAP), leading to a savings of about $2.5 billion per year.
The U.S. Department of Agriculture has proposed cutting the ability of states to be more flexible when accepting recipients, a rule designed to help lower income families afford food. If this proposed change is green lit, states would be forced to limit the income level to get benefits to 130% of the federal poverty level, according to Time.
Wolf called the proposal, which would impact low-income residents in 43 states, including Pennsylvania, a "punishment for working families across America."
"I oppose this ludicrous change that will hurt tens of thousands of Pennsylvanians, creating an undue burden and more food insecurity for families, older Pennsylvanians and people with disabilities who already struggle to put food on the table," the governor said in a statement.
"The Trump Administration's proposed rule targets needy families by restricting their ability to get SNAP benefits and will, quite simply, create more hungry families," Pennsylvania Department of Human Services Secretary Teresa Miller said in a statement. "Eliminating Broad-Based Categorical Eligibility will force families to choose between putting food on their table or covering childcare, rent, or other basic needs. This is unconscionable."
More than 1.7 million residents of Pennsylvania rely on SNAP to fill their cupboards. The changes to the program proposed by the federal government could impact about 200,000 people in more than 120,000 Pennsylvania households, Wolf's administration said.
"The rule has ramifications beyond food security," Wolf said. "Pennsylvania retailers rely on the money SNAP recipients spend and reducing the number of people able to use these benefits in Pennsylvania will have a significant economic impact. In addition, when people receive proper nutrition, they remain healthier and spend less on health care. Depriving people of the means for adequate sustenance and a healthier life is cruel and inhumane."
Nationally, there has been opposition to the proposal by anti-poverty groups. Some concerns have also been raised due to the fact the proposal is being made through a rule change and not Congress.
The Pennsylvania Department of Human Services and Pennsylvania Department of Education both plan to submit public comment in opposition to the rule change within the next 60 days.