By Todd DeFeo | The Center Square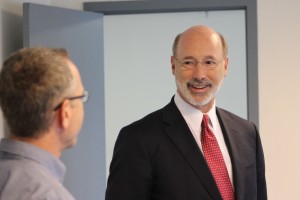 Gov. Tom Wolf last week signed an executive order to overhaul state agencies and systems tasked with protecting vulnerable Pennsylvanians.
The governor's "Protection of Vulnerable Populations" order creates an Office of Advocacy and Reform and a Council on Reform, which includes 25 voting members appointed by the governor and various ex officio members, including the secretary of human services and the secretary of drug and alcohol programs.
The Council on Reform and the Office of Advocacy and Reform will identify reforms needed to protect and support Pennsylvanians who rely on services and assistance from the commonwealth. The council will seek input from stakeholder groups and report its findings to the governor by Nov. 1.
"We have had a series of incidents in our commonwealth that have revealed gross inadequacies in the system's ability to protect and uplift Pennsylvanians in vulnerable situations," Wolf said in announcing his executive order.
"Today, we're being honest that the decades-in-the-making outdated, rigid, convoluted system is not working for too many Pennsylvanians, and we are vowing to change this," Wolf said. "We will move away from the historic practice of institutionalizing Pennsylvanians who require care or rehabilitation. We will strengthen our tactics for protecting vulnerable Pennsylvanians, and this will ultimately further our goal of creating communities where all Pennsylvanians can lead safe and healthy lives."
The move comes in the wake of several high profile cases that required state intervention. In April, the state revoked licenses for the Glen Mills School, a reform school in Thornbury Township, following a Philadelphia Inquirer investigation that detailed years of abuse.
"Given the unacceptable number of tragedies experienced in recent years, and the documented shortcomings in the child protection system, there is a need for the sort of initiatives the governor is advancing," state Sen. Lisa Baker, R-Lehman Township, said in a statement. "We also need the thorough and extensive inquiry that an independent interbranch commission can provide, so that will continue to be a priority."
The initiative targets elder abuse in nursing homes, children in foster homes, residents with disabilities, youth who are abused while in the justice system and residents seeking treatment for mental illnesses or substance abuse.
"We need to be citizen-centered rather than merely offering one-size-fits-all institutional facilities," Wolf said. "We need to recognize the weaknesses in our system as it exists, and we need to make the changes necessary so that we never again fail to protect Pennsylvanians in need.
"We need to acknowledge the problems of the past so that we can build a better government, we can build a better democracy and a better future for every single Pennsylvanian," Wolf added. "This process starts right now."
The Rehabilitation and Community Providers Association (RCPA) similarly praised the action.
"It is clear that Governor Wolf's administration is committed to improving the system's ability to address, and help prevent, the mistreatment of Pennsylvanians in vulnerable situations," RCPA President and CEO Richard S. Edley said in a statement.