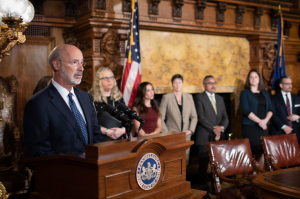 Pennsylvania plans to hold two free naloxone distribution days in September.
The announcement was made Thursday at an event attended by Gov. Tom Wolf and state health officials tackling the opioid crisis.
Pennsylvania Department of Health Secretary Dr. Rachel Levine said Wednesday, September 18 and Wednesday, September 25 will be dates for statewide distribution of naloxone kits.
Further details will be released in the coming weeks.
In December, a free naloxone distribution day event was held across the state. Bucks County gave out the third largest amount of the lifesaving opioid overdose antidote in the state with 472 provided to residents at no cost. In total, 5,000 doses were handed out across the state.
"The success of the first statewide naloxone giveaway day and the fact that we cannot treat someone for opioid use disorder if they are dead, prompted the department to plan two additional giveaway events to get even more of this life-saving medication into the hands of people across the state," Levine said.