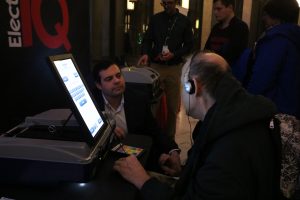 Bucks County officials will give the public another chance to see and learn about new voting machine options on Monday.
The demonstration in the Gallagher Room of the Charles E. Rollins Center at Bucks County Community College's Newtown Township campus on Swamp Road will run from 5 p.m. to 8 p.m.
Firms Unisyn Voting Solutions, Dominion Voting Systems, Election Systems and Software, Hart InterCivic, and Clear Ballot Group will roll out their devices for public inspection. Representatives from the firms and local officials will be on hand.
The Bucks County Commissioners will have to decide which voting system to purchase in the coming months. The change in systems has been mandated by Harrisburg. All voting systems in the state will have to paper records for the 2020 election. The change comes in the wake of foreign attacks on the American election process in 2016.
In a statement, county officials said a purchase decision will be made by the end of 2019.
Demonstrations of voting equipment were held in the county last year and again in June. Both of those events were in Doylestown.