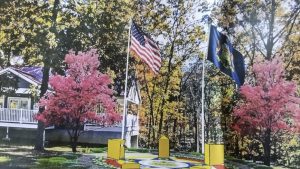 A memorial marking police officers killed in the line of duty is planned for Bucks County.
The Bucks County Fraternal Order of Police is fundraising $250,000 to build and maintain a memorial at their wooded lodge off Mill Creek Road in Wrightstown Township.
Matthew Arlen, a retired SEPTA police officer who is chairing the committee working on the memorial, said the construction of the memorial cost $201,000 and an additional $49,000 would go toward maintaining it for at least the next 10 years.
"It would have all the line of duty deaths in Bucks County," he said.
"Most departments have memorials, but this would include all the fallen officers. It would be a first-of-its-kind in Bucks County," he added.
The memorial will be constructed with room for additional officers who may be lost in the line of duty in the future. The memorial will feature pavers, landscaping, an outline of Bucks County and the Fraternal Order of Police star, and the list of names.
Currently, there are 13 fallen Bucks County constables, officers, rangers, and sheriff's deputies that will be listed. However, Arlen, said, there are several potential additions are being investigated, but older records and accounts from decades ago can be hard to come by.
"Unfortunately, we'll have room for more names," he said.
The memorial has been in the works for years.
Arlen said the Bucks County Fraternal Order of Police aims to create a space that is respectful and beneficial to the families of fallen law enforcement.
The goal is to open the memorial by spring 2020.
On Saturday, October 5, the Bucks County Fraternal Order of Police Will host a fundraiser at the Newtown Athletic Club in Newtown Township. it will feature a buffet, wine, beer, basket raffles, and 50-50s. The group is also offering engraved bricks and donations from businesses. More information can be found online.