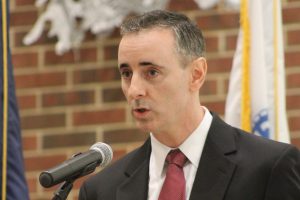 As President Donald Trump's administration is engulfed in a scandal over their conduct with Ukraine, Congressman Brian Fitzpatrick spoke about his time serving the nation as a member of an FBI detail assigned to the nation.
Fitzpatrick, a Republican from Middletown, served on the anti-corruption unit detailed to train prosecutors in Ukraine and also take part in some investigations for about four months in 2015, shortly before he retired from the FBI to run for congress.
"This was to help Ukraine after [former Ukrainian President] Viktor Yanukovych as they were rebuilding," Fitzpatrick said. "We were there to weed out corruption and train prosecutors on best practices."
The time Fitzpatrick spent the country was during a pivotal stretch as the Russian government meddled in the nation and after their 2014 invasion. It also overlapped with a time of great change in the country that Trump is focusing his efforts on highlighting due to then-Vice President Joe Biden's son Hunter's business relationship in the nation.
Trump and his allies have pushed a questionable story that Biden pressured the foreign government to fire Ukrainian General Prosecutor Viktor Shokin because his office was investigating his son's cushy position with a Ukrainian firm, Burisma Holdings. Trump has also implicated that the Biden family was involved in wrongdoing in other countries without producing much evidence.
Vox reported that President Barack Obama's administration, non-governmental organizations, and European officials felt Shokin was not cracking down hard enough and quickly enough on corruption. At the time, Biden put on pressure to have Shokin removed during a visit to the country. During a 2018 speech to foreign policy wonks, Biden bragged about threatening to withhold $1 billion in loan guarantees unless the country made efforts to remove Shokin.
Fitzpatrick said he did not deal specifically with Shokin, but he did work with his office. He stated that there appeared to be corruption with Shokin and his office, which caused issues.
A large part of the current scandal comes from the fact that Trump pushed Ukrainian President Volodymyr Zelenskiy on July 25 call to investigation the Bidens. There has also been evidence and implications that the administration may have leaned on the country's top officials to begin a new investigation on the Bidens. Former Vice President Biden is currently one of Trump's chief rivals for the upcoming 2020 election, which has raised questions in Washington D.C. if the president is asking a foreign country to aid him in the upcoming race.
As the scandal involving Trump and his administration grew, Democrats in Congress began an impeachment inquiry last week, citing Trump's pressure on Ukraine and his push to investigate his political rival's family. Much of the early ammunition in their push came from a complaint filed by a whistleblower in the intelligence community and later information released by the White House and statements made by the president and his personal attorney Rudy Giuliani.
While being interviewed this week, Fitzpatrick said he felt House Speaker Nancy Pelosi, a Democrat from California, rushed to impeachment before gathering all the facts.
"It's a very serious allegation that was made and it needs to be looked into, but I don't think it's a good idea to launch an impeachment inquiry before we know the facts," he said.
Fitzpatrick said the fact the politics is so closely tied to impeachment will only create more divisiveness.
"But we do need to get to the bottom of this," he said of the claims of wrongdoing against the president.
The congressman said he was disappointed there wasn't a House of Representatives vote on whether to launch an impeachment inquiry like there was before a similar effort against Democratic President Bill Clinton in the 1990s.
He also raised some concern about New York Times reporting that the whistleblower went to Congressman Adam Schiff's staff before filing his complaint. Fitzpatrick stated he felt the matter should be looked into. Schiff, the Democratic head of the House Intelligence Committee, has said in the press the whistleblower's interaction was standard and beat back Trump's currently unfounded claim he helped write the complaint. An independent government inspector general deemed the complaint credible.
When asked about Trump's more than 100 tweets on the scandal in the past week, Fitzpatrick said he does not pay attention to the regular messages posted online from the president. He added that he has stated before that Trump needs to "tone down the rhetoric."