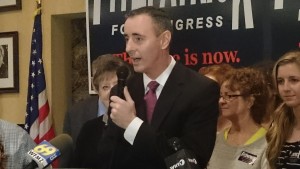 Congressman Brian Fitzpatrick's campaign wrote Thursday evening that funds received from a Florida businessman who is accused by the U.S. Department of Justice of taking part in a scheme to make hundreds of thousands of dollars in illegal contributions to election efforts will be "immediately donated to charity."
According to Federal Election Commission filings reviewed by NewtownPANow.com, Igor Fruman contributed $2,445.34 to the Middletown Republican's campaign in 2018 through two donations. He did not donate to Fitzpatrick at any other time between 2016 and 2019.
"With this and any other instance where an unsolicited contribution from an unknown donor is made, and wrongdoing is discovered, the money is instantly donated to charity. That is the case here, and this money will be immediately donated to charity," the congressman's campaign said in a statement.
Some of the other Republicans who received money from Fruman have donated the funds.
Fruman, a Belarus-born American citizen, and Lev Parnas, a Ukrainian-born American citizen, were nabbed by FBI special agents at Dulles International Airport outside Washington D.C. Wednesday as they were preparing to leave for Europe with a one-way ticket, according to prosecutors.
The 22-page indictment alleges that the two men directed hundreds of thousands of dollars in illegal contributions to Republican campaigns, including a pro-President Donald Trump political action committee.
The men also lobbied lawmakers to fire the previous American ambassador to Ukraine, according to federal law enforcement. Media reports indicate the ambassador, Marie Yovanovitch, was eventually recalled and returned to work stateside for the U.S. Department of State.
The two "sought to advance their personal financial interests and the political interests of at least one Ukrainian government official with whom they were working," according to the indictment.
Two other men – Andrey Kukushkin and David Correia – were charged with in relation to other campaign finance violations.
Parnas and Fruman have widely been known to work with President Donald Trump's personal attorney Rudy Giuliani, even recently being photographed with him. The men took part in an effort to get dirt on Trump's political rivals and push Ukrainian investigators to further probe Democratic presidential candidate Joe Biden, the former vice president, and his son Hunter.
The investigation came after a campaign watchdog group discovered the men used a company to allegedly direct foreign funds to political causes.
U.S. Attorney for the Southern District of New York Geoffrey Berman told reporters Thursday that the investigation into the scheme was continuing.
In 2018, Fitzpatrick's campaign donated $3,000 that was received from upstate New York Republican Congressman Chris Collins, who was indicted for and insider trading scheme.
Lancaster-based news organization LNP broke the news of the donation from Fruman to Fitzpatrick's campaign.
Editor's Note: The headline of this story has been updated to reflect the congressman's campaign is donating the funds.