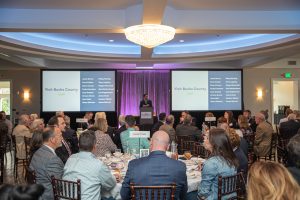 Before a packed ballroom in Warrington, officials from Visit Bucks County announced that tourism in the area is breaking records.
On Thursday at the tourism agency's annual meeting, Visit Bucks County President Paul Bencivengo told local government, businesses, and tourism officials the good news. His announcements were met with cheers.
Some of the tourism statistics:
Visitor spending in 2018 resulted in a record-breaking $1.1 billion in economic impact in Bucks County.
Leisure and hospitality employment was 28,700, a 2.9 percent increase over 2017.
8.15 million total visitors explored Bucks County's countryside, enjoying area attractions, experiencing outdoor adventure and shopping, dining and indulging in the local flavor.
Hotel occupancy was up 3.5 percent and room night demand was up 7 percent from 2018.
An increase in website views, phone calls, and stops at the visitor's center in Bensalem was reported.
40,000 user-generated photos of Bucks County were captured.
Many of Bucks County's tourists come from the Mid-Atlantic region. The county boasts convenience to major cities and easy access by the road and rails.
"It's an exciting time at Visit Bucks County, with an innovative team implementing cutting-edge strategies that bring tourists to the region to experience the County's remarkable history, culinary scene and unique attractions," said Bill Haas, board chairperson of Visit Bucks County. "Each year, this organization continues to support the hospitality industry and delivers impressive marketing campaigns that engage visitors by showcasing the beautiful place we call home."
"Whether it's families heading to Sesame Place and Shady Brook Farm or couples booking a weekend getaway, tourists are seeking unique experiences when making travel decisions," said Bencivengo.
To draw more tourist the region, Visit Bucks County has focused on new advertising campaigns and strategies, including targeting internet users attending the Word Pride Parade in New York City, Bencivengo explained. He joked that the ad tracking was "scary but effective."
The agency has increased production of video features that have proved popular. More than 125 360-degree videos for Google were produced and an MTV "Cribs"-style tourism series was such a success a second season is planned, Bencivengo said.
In addition to press trips from traditional and new media outlets, Visit Bucks County has hosted many social media influences.
Food and beverage are a major draw for tourism in the county and has caused Visit Bucks County to shift its focus on that market.
Another tool Visit Bucks County has used is theme-specific trails to target certain types of visitors. The tourism agency works with special trails for beer, wine, ice cream, covered bridges, sweet spots, and history.
"We are thrilled to work with so many creative, culinary and beverage partners in Bucks County to market our longstanding Wine Trail, as well as the new Ale Trail and Sweet Spots Trail passports," Bencivengo said.
The idea of the trails and tourism passports is to incentivize tourist and even locals to visit local spots and spend money.
Bencivengo noted that 1,600 people have claimed Bucks County Ale Trail T-shirts as of this week.
To promote the trails, Visit Bucks County has gone to Philadelphia and Washington D.C. to hand out sweets and ice cream. As expected, both events were popular.
The president of Visit Bucks County teased that the newest Bucks County Ale Trail beer collaboration between Broken Goblet Brewing and Naked Brewing with cider made from Snipes Farm apples is slated to be released in November.
The popular Well Seasoned foodie magazine put out twice a year by Visit Bucks County is now printing 50,000 copies a run. It features food and drink tips from across the county.
Visit Bucks County also stepped up efforts to market wedding venues and as a business conference destination.
In 2019, Visit Bucks County began working with businesses and the community college to develop educational opportunities to help grow the hospitality industry.
It was announced earlier this year that the Bucks County Industrial Development Authority, the Bucks County Workforce Development Board, and Visit Bucks County are taking part in a new Tourism and Hospitality Product Development Assessment initiative. The assessment will bring tourism experts to the county to see the weaknesses and strengths and offer recommendations. Results are expected in 2020.
At the annual meeting, the tourism awards were handed out. The 2019 recipients were:
Glenn Blakely and Ray Kasper, Friends of Washington Crossing Park
The Faure Family, Golden Pheasant Inn and Restaurant
Adele Gamble, Ghost Tours of New Hope
The Snipes Family, Snipes Farm and Education Center
Jerry Lepping, former Visit Bucks County Board Chairperson and Visit Bucks County President and COO