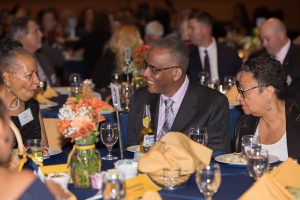 The Bucks County NAACP is hosting their annual Freedom Fund Banquet later this month.
The theme for this year's banquet that will be held Saturday, October 26 from 6 p.m. to 10 p.m. at Parx Casino in Bensalem is "When We Fight, We Win."
Karen Downer, president of the Bucks branch for three years, said the annual Freedom Fund Banquet "is our primary fundraising event of the year. The funds are used to promote our educational, informational programs and seminars presented free of charge each year."
"The NAACP Bucks County Branch needs your help and support," Downer said. "Our cause is 'For The People.' In many ways, the NAACP is the conscience of America. We believe deeply in the Constitution and the American belief in equality and justice for all. And we need your support to achieve that goal."
At the banquet, the branch will be recognizing five people who give back to the Bucks County community. They are: Dr. Imtiaz Chaudhary, ophthalmologist; Daniel Grace, business manager, Teamsters Local 830; Georgette Helbling, a librarian and teacher, who specializes in Dyslexia; Wings of Victory – Candace Carter, founder and Willa Turner, president; and Daniel Woodall, business manager, Laborers Local 135.
Downer said the NAACP is very important in these troubled times. In mid-September the NAACP Bucks County Branch held "Know Your Rights," a seminar on car stops and voting rights, with more than 70 people in attendance.
"The many questions and interactions," Downer said, "indicate how concerned people are about the current environment and they want to understand what to do to help to stay safe. We talk about school children doing safety drills driven by fear of school gun violence. Many workplaces also practice potentially lifesaving workplace violence procedure."
She added that the NAACP's focus "is on education, economic sustainability, access to health care, immigrant rights, raising the middle class, the environment and the list goes on and on. The organization came into being fighting Jim Crow and for the very lives of Black people. And 110 years later, we are continuing the fight for our lives and our future. We learned early how to fight these battles. We also learned that 'When We Fight, We WIN!'"
The goal of the Bucks NAACP, as with the national organization, is to secure the political, educational, economic, and social equality of rights of all individuals in order to eliminate race-based discrimination, according to Downer.
There are about 150 members of the Bucks NAACP. Nationwide, there are more than 2,200 active branches. Branches like Detroit and New York have 10,000-15,000 members and Philadelphia has almost 5,000.
The NAACP is a grassroots organization, which depends on local branches to carry out the mission of the organization and to help keep the national office informed and up to date as to what is going on in the field.
Downer said the organization's objectives include: "The protection and enhancement of our voting rights, equitable dispensation of justice for everyone, equal access to affordable and high quality health care for everyone, a free, high quality and equally funded education for every child, and everyone has an opportunity to achieve economic success and the American dream."
How to get tickets
Tickets are available via Eventbrite. https://www.eventbrite.com/e/bucks-co-naacp-annual-banquet-when-we-fight-we-win-tickets-71365645567
The event is posted on Facebook with a link to Eventbrite to buy tickets.
Event tickets will be sold at the door if tickets are not sold out online by October 25. Cash or check will be accepted payable to NAACP Bucks County Branch #2253.