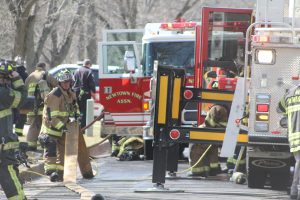 A group of bills designed to aid emergency responders in the Keystone State has received local support.
The set of bills are expected to be voted on in Harrisburg over the next two weeks.
Among them are House Bill 269 that exempts the surviving spouse or minor child of a first responder from the Realty Transfer Tax within five years of the first responder's death. The bill was introduced by Republican State Rep. Frank Farry, of Langhorne, and supported by a number of other lawmakers.
State Rep. Chris Quinn, a Republican from Delaware County, has introduced House Bill 732 that provide an exemption from the Realty Transfer Tax for the transfer of real estate to or by a volunteer EMS company, fire company, or rescue company.
House Bill 432 is designed to expand post-traumatic stress injury benefits for first responders. Police officers, firefighters, emergency medical technicians, and paramedics would be able to receive benefits through the Pennsylvania Workers' Compensation Law for psychological injuries arising from their employment, or after four years or more of service, regardless of whether the injury is accompanied by physical injuries requiring medical treatment. The bill was introduced by a bipartisan slate of lawmakers.
Another bill, which was introduced by Farry, allows for volunteer fire company relief funds to be used to retaining existing volunteer members and providing incentives for recruiting new volunteer firefighters. Currently, the funds from the volunteer fire relief organizations can only be used for limited purposes.
"One example is the Length of Service Award Program (LOSAP), a system established to provide tax-deferred income benefits to active volunteer members of a fire service," Farry said. "Another is for the assistance and protection of volunteer firefighters in order to provide necessary training, as well as funding for recruitment and retention of volunteers."
House Bill 1459, which was co-authored by Farry and supported by Falls Township-based Democratic State Rep. John Galloway, aims to create a program that deals with stress and wellness programs for emergency responders, 9-1-1 dispatchers, and coroners.
"At the same time, we're not adequately caring for volunteers when they suffer from the physical and mental stress caused by their responsibilities," said State Rep. Wendi Thomas, a Republican from Northampton.
Lawmakers released details on other bills:
House Bill 1786 would create the First Responder Loan Forgiveness Program for indebted college graduates who are active members of an emergency medical services agency, volunteer fire company or volunteer rescue company. Up to $16,000 of the graduate's loans would be forgiven after four years of service.
House Bill 1839 would give counties the option of providing a property tax credit to qualified active volunteers to be applied against an active volunteer's property tax liability.
House Bill 1773 would create the Tuition Assistance for Active Volunteers Program for first responders. An active member of a volunteer fire company or EMS agency who attends an approved institution of higher learning would be eligible to receive tuition assistance. Program is modeled after the PA National Guard education assistance program.
The package of legislation comes as volunteer fire companies and emergency medical squads battle a dwindling number emergency responders over the past decades.
Lawmakers said the number of volunteer responders have dropped to 37,000 from a high of 300,000 in the 1970s. More than 90 percent of the state's fire companies are staffed by volunteers.
"The package is necessary to reverse the significant drop in volunteer emergency responders throughout the state by providing a broad package of programs to assist our first responders" said Farry, who serves as the chief of the volunteer Langhorne-Middletown Fire Company.