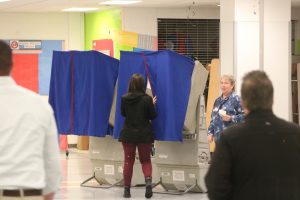 The numbers are in and Election Night 2019 serves as further vindication of the lessons of Election Night 2018.
To put it simply, while it's clear that the right Republican can still win, Bucks County is now Democratic territory.
2019 Election Results
Arguably the biggest victory for Democrats was taking the majority of theBucks County Commissioners. Incumbent Diane Ellis-Marseglia was the leading vote-getter throughout the county and her coattails brought in newcomer Bob Harvie, a teacher and chair of the Falls Township Board of Supervisors.
On the other side, a familiar name provided a boost for Gene DiGirolamo, who will be the sole GOP representative.
Similarly, when it came to the Court of Common Pleas the Democrats were able to score two of the three available judgeships. The party even swept the four row offices with each nominee securing between 51 to 52 percent of the vote.
Blue Wave in the Southeast
As I noted in a recent piece on voter registration trends throughout Pennsylvania over the last three years, the southeastern part of the state is growing more blue.
For instance, the Democratic Party is experiencing a bounce back in Bucks County. After seeing a 12,138 advantage in May 2015 erode down to 6,355 in May 2017, Democrats are now nearly back with a current edge of 11,307.
Elsewhere, Delaware County Democrats finally succeeded in taking over not just the majority, but the entire city council there. On top of that, the party took control of the Chester County Board of Commissioners as well.
In fact, this blue tide is trending as far west as Lancaster. Take Manheim for example. It was the site of an official Trump campaign Halloween event. The real scare ending up coming last night, though, when the town flipped Democratic.
What It Means for 2020
Bucks County has voted for the Democratic nominee in seven straight presidential elections (going back to 1992) and there's little indication to suggest 2020 won't be number eight.
This trend is of course worrying for Republican Congressman Brian Fitzpatrick, whose district consists of Bucks County and a piece of Montgomery County. Fitzpatrick is currently stuck between a rock and a hard place, forced to keep Donald Trump at arms length while making sure never to fully break away.
Make no mistake, however, this doesn't mean that Fitzpatrick can't win a third term. After all, DiGirolamo's victory shows the right name still means something in Bucks County and Fitzpatrick is the strongest name in Republican politics here.
That's why it's so puzzling that he's facing a primary challenge. In a sense, it's understandable why some Trump die-hards resent Fitzpatrick's attempts to distance himself from the president.
Nevertheless, it's difficult to imagine any Republican not named Fitzpatrick being able to successfully swim against this current.
Remember that the First Congressional District is one of just three Clinton districts with a Republican representative. Furthermore one of those three, Texas' Will Hurd, is retiring. Leaving just Fitz and New York's John Katko as the only two GOP incumbents seeking another term in blue territory.
To top it all off, it's unlikely that the 2020 First Congressional District Democratic nominee will make as many mistakes as 2018 nominee Scott Wallace did.
So the forecast looks bright for Democrats one year out. They'd be wise to remember, though, that a year is an eternity in politics and that the man in the Oval Office is an especially potent reminder that nothing is guaranteed and anything can happen.