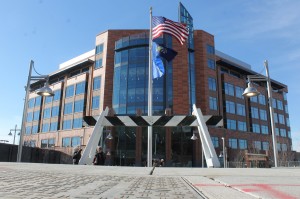 In a stunning twist very late Friday afternoon, testimony from a Bucks County Detective revealed that Cosmo DiNardo refused to testify against Sean Kratz at his trial.
While on the stand just before court let out for the long Veterans Day weekend, Bucks County Detectives Chief Martin McDonough said DiNardo, 22, of Bensalem, "refused to get on the bus" to come from a state correctional institution to Bucks County to testify in the ongoing trial. DiNardo reportedly said he did not want to testify against his cousin, Kratz, 22, of Philadelphia.
Prosecutors had issued him a subpoena for him to appear.
Attorney Charles Peruto Jr., who is representing Kratz, questioned why the state correctional officers did not force DiNardo to come to Bucks County. McDonough replied that he could not speak for the prison staff.
McDonough told the court that if there was another formal request to bring DiNardo to Bucks County, he would take it.
It was revealed that while the prosecution had requested DiNardo come to Bucks County, the defense had not.
Peruto said in his opening statement on Wednesday that DiNardo's testimony would "shake the Earth."
Leading up to the dramatic afternoon twist, the jury and court watched hours of video from a July 2017 police interview and April 2018 confession by Kratz.
The comparison between the two videos showed that Kratz's statement to Bucks County Detectives had changed and shifted over time. The April 2018 confession was part of a plea deal negotiated by Kratz's former attorney Craig Penglase, who left the case after it came out he leaked a DiNardo confession tape to the media.
Kratz later turned down the plea deal and ended up in his current position on trial.
In the July 2017 interview that was held at a Northeast Philadelphia detective station, Kratz's story about what happened placed nearly all the blame of DiNardo, who he said was a "monster."
"What he did was foul," Kratz said of the murders of four young men at the DiNardo farm in Solebury.
"I wish I never got involved with this kid," Kratz said.
DiNardo and Kratz only began hanging out with one another in the days leading up to the killings at the urging of their mothers. Otherwise, Kratz mainly saw DiNardo at family functions.
"In a week, I got to know he was a monster," Kratz said.
The 2017 video shows detectives confronting Kratz on inconsistencies in his story and details he had stated. He chalked it up to "trauma" going on due to witnessing DiNardo kill Dean Finocchiaro, 19, of Middletown; Thomas Meo, 21, of Plumstead Township; and Mark Sturgis, 22, of Pennsburg, Montgomery County, and his own recovery from being shot 19 times in an earlier unrelated incident in the city.
Authorities have said that Jimi Patrick, 19, of Newtown Township, was murdered by DiNardo before Kratz was involved in any killings. Kratz said in an interview he wasn't aware of Patrick's death at the time.
Kratz told detectives in 2017 that he hoped they "lock Cosmo away for a long time."
The defendant then asked for his mother to be present. A Philadelphia police officer transported Kratz's mom, Vanessa Amodei, from her home, where detectives were looking for evidence, to the police station where Kratz was being questioned.
Amodei arrived and told Kratz this while detectives were not present but recording video: "I'm going to make it very clear: everything you said to me, you say to them."
"F**k family," she said shortly after.
She told Kratz she was upfront with police and wanted him to be, while he responded that he was and felt detectives were trying to get him in a corner.
"Save yourself because [Cosmo will] bury you just like he did to those four boys," she warned her son.
Amodei bluntly told her son the victims' families were going through their own loss and "deserve to know everything there is."
"Don't cover for that fat f**k," Amodei said to Kratz.
While alone in the interview room, Kratz was whimpering at times and said this about DiNardo aloud to himself: "what an evil-ass kid … you sick monster."
The confession video made before Kratz was expected to plead guilty was made with Penglase sitting with him while county detectives had him explain what happened. They also followed up with additional questions.
The information in that part of the tape was used, along with physical evidence, witnesses, and DiNardo's taped confession, to piece together what happened in July 2017.
In the 2017 interview, Kratz denied shooting Finocchiaro. The next year when he was working for a plea deal, he admitted to shooting the Middletown man before DiNardo fired one more bullet into him.
"I was hesitant," Kratz told detectives. "I pulled the gun out, closed my eyes and aimed in the air and fired a shot."
After shooting Finocchiaro, Kratz went outside to vomit, he said.
DiNardo then told him to relax and asked him if he had seen a dead body.
Kratz told investigators he never touched Finocchiaro's body after he collapsed from being shot.
While the detectives stepped out of the room during the 2018 interview and Kratz was sitting with Penglase and two deputies, the attorney had a stern request for the lawmen.
"None of this is going to be public, so I ask that you keep it quiet," Penglase said.
Around the same time, Penglase leaked Cosmo DiNardo's confession with detectives to the media.
The irony of the attorney's request was not lost in the courtroom as a few chuckles came from the public and media seating areas.
Peruto has said Penglase will testify in Kratz trial. The defense attorney had made the case Penglase was not acting in his client's best interest.
The prosecution is expected to close their portion of the case next week. The defense would then offer their argument and call witnesses.
Court resumes next Tuesday morning at the Bucks County Justice Center in Doylestown Borough.
Previous coverage of Sean Kratz's trial: