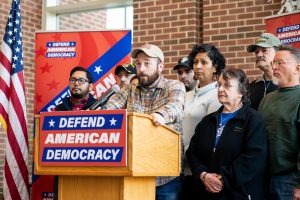 A group of military veterans gathered Tuesday to call on Republican Congressman Brian Fitzpatrick to hold President Donald Trump accountable.
Defend American Democracy, which bills itself as a "bipartisan campaign to call on Congress to put politics aside when it comes to impeachment," organized the press conference in Bristol Township. The group, formed by left-leaning and nonpartisan veteran and national security groups, is behind a TV ad that is airing locally that implores Fitzpatrick to put country over politics.
The event took place as the Congressional Intelligence Committee was in the middle of testimony from witnesses as part of an inquiry on whether to impeach Trump.
Naveed Shah, a Virginia resident who used to live in Bucks County, called for Fitzpatrick to "take a strong stand against the president and his immoral actions in office." He said he understands the oath of office because he took a similar one when he became a citizen and then when he joined the U.S. Army.
U.S. Navy veteran Geri Hare, a resident of Lansdale, which is in Fitzpatrick's First Congressional District, called on the congressman to visit her town and talk to residents about their thoughts on the president's conduct.
"I swore an oath to protect and defend this Democracy and it's the oath Congressman Fitzpatrick took first as an FBI agent, and then again as a member of Congress—my member of Congress. I want to tell Congressman Fitzpatrick to listen to his constituents and take this inquiry seriously," said Hare.
"Nobody is above the rule of law," she said.
Army veteran Alan Pitts, who was wounded in Iraq and received the Purple Heart said "enough is enough."
"We're here saying enough is enough. Congress needs to do their job and hold the president accountable. Last time I checked, liberty and justice for all meant no one is above the law. It's time Congress and Congressman Fitzpatrick found the courage to put country over politics, and held this president accountable," said Pitts.
"My fellow veterans and I swore an oath to protect this democracy, be courageous and do what's right. Brian Fitzpatrick swore that same oath twice. And as military veterans, we're calling on him to uphold that oath once again. This president is trampling everything we fought and bled for. Donald Trump abused his power … extorting a foreign leader to interfere in our 2020 elections. That is just wrong," said Jason Hurd, an Army veteran who served as a medic in the Iraq War.
"Put your country over your party," he implored.
Defend American Democracy has been traveling to congressional districts throughout the country.
Fitzpatrick in recent weeks has said that he would support a law enforcement investigation into allegations the president acted improperly and pressured the president of Ukraine to have his government investigate political rival former Vice President Joe Biden and his son. The congressman has said his mind is not made up on impeachment and he wants all the facts.