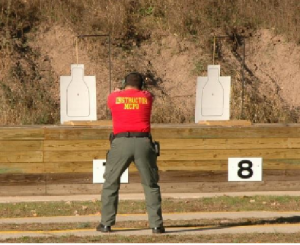 A longtime pain in the side of many Upper Makefield residents has agreed to "assist in limiting the amount of noise pollution."
Congressman Brian Fitzpatrick's office confirmed Tuesday evening that the Mercer County Prosecutor's Office will work to mitigate the sound coming from the state-of-the-art Mercer County Firearms Training Facility across the river from Upper Makefield in Hopewell Township, New Jersey.
The 24-shooting-alley training facility with live-fire shoot house and an observation tower sits next to the Mercer County Correctional Center. The facility is only about 1,100 feet across the river from Upper Makefield. Residents have said that the sound of gunfire travels throughout their neighborhoods. 
Fitzpatrick's office sent a letter to the Environmental Protection Agency (EPA) in July "to express our constituents' concerns about the noise and the lack of impact studies conducted for the site."
"While my office received a response that the EPA does not have jurisdiction over the issue, the agency subsequently forwarded the request to the New Jersey Department of Environmental Protection (NJDEP) and the Mercer County government. After engaging directly with Mercer County, my office connected directly with the Mercer County Prosecutor's Office. The Prosecutor's Office indicated that Mercer County has hired a Noise Abatement Officer to evaluate the firing range to find a practical solution to limit the volume of noise coming from the range. Noise decibel levels on both sides of the river will be tested to ensure a thorough noise abatement examination. It is anticipated that the construction cost of any noise abatement project will be included in Mercer County's 2020 Capital Budget. Additionally, the County has purchased 24 noise suppressors for all 24 alleys at the range and will soon mandate that every shooter will be required to attach a suppressor to their firearm. This policy is anticipated to be implemented in the coming weeks," a statement from Fitzpatrick said.
In the past, Upper Makefield officials said the goal was to resolve the issue so that the sounds is "tolerable" for residents.
Fitzpatrick said his office will continue to talk with New Jersey authorities to "work towards the best resolution of this issue for all the residents of Upper Makefield Township."