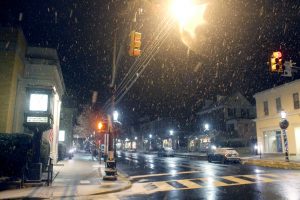 Lower Bucks County could see an early taste of winter weather later this weekend.
The National Weather Service said Friday evening that the lower end of the county could see a small amount – less than an inch – of precipitation Sunday into Monday. The most likely scenario is a wintry mix along the I-95 corridor.
"A period of sleet, snow and rain may result in some slippery travel at times before changing to rain from south to north. Rain may end as a period of snow on Monday," forecasters said.
Untreated surfaces might become hazardous at times during the storm, forecasters said.
While the area has seen flurries and light snow that didn't stick, Lower Bucks County has not seen any accumulating precipitation.