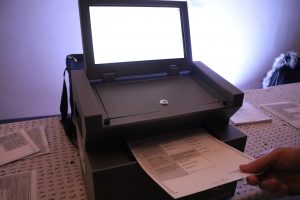 Bucks County has chosen their new voting system for 2020 and beyond.
The Bucks County Commissioners voted Wednesday 2-1 to spend $5.22 million to acquire machines that use handmarked paper ballots from Boston-based Clear Ballot. Chairman Robert Loughery and Commissioner Diane M. Ellis Marseglia were in favor of the machines and Commissioner Chaley Martin wished to purchase another voting system from Elections Systems and Software, which has been picked by dozens of other counties but also caused problems in Northampton County.
The five-year contract includes services relating the voting machines, hardware, software, shipping and handling, and post-warranty maintenance and fees, county spokesperson Larry King said.
The Clear Ballot system was certified by Acting Pennsylvania Secretary of State Kathy Boockvar, a Bucks County resident, in March, according to the Pennsylvania Department of State.
The county has spent more than a year looking for new voting machines for the county. County staff and the public have offered their feedback on the voting machine choices.
Bucks County has hosted several demonstrations of the new voting systems.
"We have done a lot of research to provide to the board before you make your decision," Bucks County Chief Clerk Deanna Giorno said last week at the Board of Elections meeting that led to Wednesday's vote.
Here's how the county describes the new system:
Clear Ballot is a voter-verified paper ballot system that uses ballots lacking barcodes or QR codes. Voters complete paper ballots by hand and feed them into a scanner, which drops the ballot into a ballot bag for transportation to the Board of Elections office in Doylestown at the end of Election Day.

The Clear Ballot scanners also scan an image of the completed ballots and tabulate results from each precinct for efficient Election Night reporting.

The Clear Ballot system also provides a ballot marking device for each polling place for voters who require ADA provisions. The ballot marking device prints a ballot identical to those provided to non-ADA voters at the polling place before it is fed into a scanner.
League of Women Voters of Bucks County member Ardith Talbott said at the Board of Elections meeting that the handmarked ballot system is more secure compared to electronic machines that can become vulnerable to interference.
In April 2018, the Pennsylvania Department of State notified every county that they needed to have voting systems that provide a paper record by the end of 2019. The new machines are to be in use no later than the 2020 primary and need both federal and state certification.
The state has already committed millions in state and federal funds to help counties upgrade their voting systems. It is not clear how much outside funding, if any, Bucks County will receive.
State officials have said that voting systems with paper trails allow for more accurate and reliable post-election audits.
Pennsylvania is requiring that all new voting systems are never connected internet-facing networks, require election results to be delivered to officials in person, and are able to be secured with tamper-evident seals.
The state moved to secure voting systems after the federal government's intelligence community concluded that Russian-associated bodies interfered with the 2016 American election. A bipartisan U.S. Senate Intelligence Committee report from summer found that Russian intelligence impacted states at "an unprecedented level of activity against state election infrastructure." The Senate report also stated that all 50 states were targeted in 2016 as Russia looked at vulnerabilities in the election system.
For the recent general election, state officials and the U.S. Department of Homeland Security's Cybersecurity and Infrastructure Security Agency gathered at the Pennsylvania Emergency Management Agency facility in Harrisburg to monitor and safeguard the voting process. The group worked with county election officials and other stakeholders during the municipal election.
As of early November, 79 percent of Pennsylvania's counties had moved toward or purchased new voting systems. In the November general election, 67 percent of counties were already using their new systems.
To get county staff and poll workers ready for the new system, training dates will be scheduled in the new year. King said there is no date for when the voting machines will be delivered.
Bucks County's current voting machines were purchased in 2006 with funding from the federal Help America Vote Act of 2002. The voting machines replaced hulking metal ones that used a lever system.