Provided by the County of Bucks: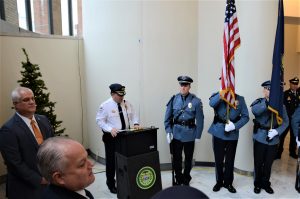 There are no new white ornaments this year on the large, blue-lit wreath shining out from the Bucks County Administration Building.
For that, the county is thankful.
Each of the 12 white ornaments on the Project Blue Light Memorial Wreath represents a Bucks County law enforcement officer who has died in the line of duty since 1914.
At a solemn, well-attended ceremony Wednesday, police, elected officials and other county employees once more affirmed that those who died while protecting and serving their fellow county residents will not be forgotten.
The six-foot wreath, usually affixed to the third-floor rotunda of the Administration Building in Doylestown, was moved this year to the ground-floor windows because of ongoing renovations on the third floor of the building.
The 11th annual ceremony was led by Upper Southampton Township Police Chief Ronald MacPherson, president of the Police Chiefs' Association of Bucks County. Middletown Township Police Chief Joseph Bartorilla gave the invocation.
Also speaking were District Attorney Matt Weintraub and County Commissioner Charley Martin.
"We all tend to live in a bubble," Weintraub said. "And we get to live in that bubble safely, and go shopping, see our kids in pageants, celebrate at office parties and go about our daily lives because of some of the men and women you see arrayed (here). They are keeping us safe every day."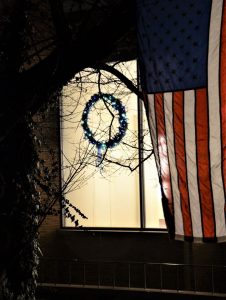 While Bucks County police had no on-duty deaths in 2019, more than 160 law enforcement officers perished nationwide, Martin said.
"It's a real tribute to all of our law enforcement people and their families for what they do each day," he said of the wreath. "It's a pleasure to honor those who, when there's a problem, will rush toward the problem and not away from the problem."
Project Blue Light is a nationwide observance begun 30 years ago by Dolly Craig of Philadelphia.
In 1988, Ms. Craig placed two blue candle lights in the window of her home: one in honor of her son-in-law, Philadelphia Police Officer Daniel Gleason, killed in the line of duty 1986; and one for her daughter Pam, Gleason's wife, who died in an auto crash in 1988. The couple had six children.
Craig wrote of her simple gesture to Concerns of Police Survivors (C.O.P.S.) an organization dedicated to families of fallen officers, which helped the idea take hold nationally.
"Since that time, the blue light has come to symbolize the peacemakers that protect us every day," MacPherson said. "In Bucks County we have had 12 fallen officers, including a constable, sheriffs and a park ranger. This ceremony is to honor their memories."
Those honored on Bucks County's wreath are:
Doylestown Borough Constable Henry H. Kolbe, 1914
Bucks County Sheriff Abram L. Kulp, 1927
Dublin Borough Police Chief Eli Myers, 1965
Bristol Township Police Detective George F. Stuckey, 1972
Bensalem Township Police Officer James K. Armstrong, 1975
Bensalem Township Police Officer Robert N. Yezzi, 1980
Bucks County Deputy Sheriff Thomas A. Bateman, 1986
Bucks County Deputy Sheriff George M. Warta Jr., 1986
Bucks County Park Ranger Stanley E. Flynn, 1993
Plumstead Township Police Officer Joseph E. Hanusey III, 2002
Newtown Borough Police Officer Brian S. Gregg, 2005
Middletown Township Police Officer Christopher C. Jones, 2009