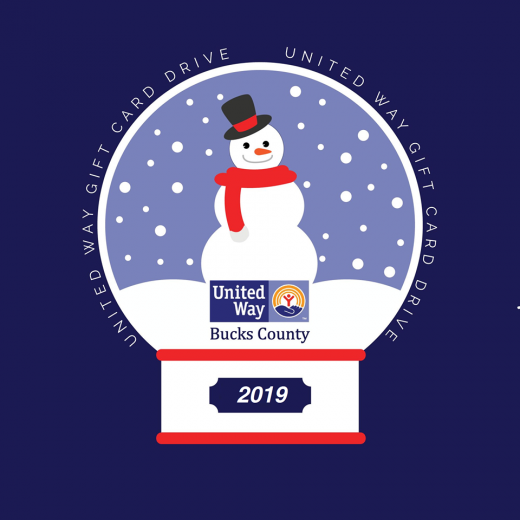 Personally speaking, I find the holiday season overwhelming. There's too much to do – too many events and not enough time. However, when I take a step back, the United Way of Bucks County's Holiday Gift Card Drive helps me slow things down and gives me focus on what the season is all about.
The drive aims to help 1,200 local tweens and teens whose families are struggling in 2019. This time of year can be tough and even harder if you're facing difficulty.
This is the sixth season that LevittownNow.com and NewtownPANow.com are working to help the Holiday Gift Card Drive. An amazing outpouring of support from our generous readers and others have provided gift cards for shops and eateries popular with tweens and teens over the past few years.
The holidays should be a time for Bucks Countians to forget their troubles, count their blessings, and gather with friends and family to enjoy a hot meal and exchange gifts. For children and teens, there's even more to the season. They look to this season to deliver something bright. A surprise, even as simple as a gift card, will be able to deliver a bit of that this year. Sadly, unlike the Christmas morning that many woke up to growing up, the season can serve as a bleak reminder of financial hardships, personal loss, and unfulfilled wishes for many older kids and teens.
As of last week, the drive was behind in collections and there was a significant void to fill. Support is still needed to help 750 older kids and teens. A simple $35 donation can help fulfill the program's offerings for one tween or teen.
Danielle Bush of the United Way of Bucks County told me a few weeks ago that the program last year helped over 1,000 tweens and teens. As the program becomes more well known, the number of requests grow. Part of that growth has been due to the opioid epidemic and more and more grandparents on fixed incomes receiving custody of their grandkids. While the overall economy is doing well, there are many local families where the parents and underemployed and struggle to afford a luxury like a holiday gift.
There are many worthy charity causes this time of year. I understand if funds are tight and you can't donate. However, if you are fortunate enough to have something to donate, your help is needed for the Holiday Gift Card Drive. This program is powered by you.
There is still time to donate. The final donation deadline is Friday, December 13.
To give or learn more about donating, visit the Holiday Gift Card Drive website.
Season's greetings!
Tom Sofield
Publisher, LevittownNow.com & NewtownPANow.com