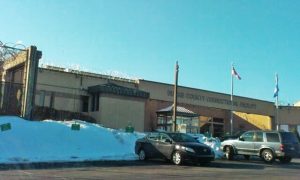 The family of former postal worker Charles Freitag Sr. is suing after he died in the Bucks County Correctional Facility.
The lawsuit filed in Philadelphia federal court last Friday is against Bucks County, prison medical provider Primecare Medical Inc., and several related individuals. The news of the filing was first reported by the Bucks County Courier Times last week.
Freitag died by suicide in the Doylestown Township county prison in August 2018. His death came the day after he was sentenced to 6 to 12 years in state prison by Bucks County Judge Diane Gibbons for a September 2017 incident where he slammed his pickup truck into his ex-wife's home on Martha Circle in the Fallsington section of Falls Township. At the time, he resisted arrest and had slashed his wrists with a box cutter.
According to the lawsuit and previous statements to this news organization, Freitag had suffered mental health issues leading up to the sentencing and "expressed to mental health providers severe anxiety and stress over the outcome of that proceeding." The lawsuit said the 57-year-old man was hoping to be sentenced and able to return to his job with the U.S. Postal Service, his employer of more than 25 years.
Freitag, a first-time offender, was sentenced to prison and held after at the county lockup until he could be moved to a state facility.
"The next day, as part of a normal security protocol, correctional officers were supposed to check his cell once every thirty minutes. An officer looked in his cell at 10:21 am. For the next thirty-four minutes, the cell remained unmonitored. At 10:55 am, another prisoner walking by the cell yelled to correctional officers that Mr. Freitag was kneeling beside his bed with his head and arms prone on the bed and that there was blood on the floor," the lawsuit stated.
The scene was described in the filing as "gruesome." It stated Freitag died from wounds to his arms.
"As Mr. Freitag approached a trial on his criminal charges, he was offered a negotiated resolution of the case requiring him to plead guilty to a felony offense in return for a non-incarceration, probationary sentence. Because he was concerned that a felony offense would result in the termination of his employment with the U.S. Postal Service, Mr. Freitag refused to accept the proposed resolution. Instead, he went to trial before a jury," the lawsuit stated.
Leading up to his sentencing, the prison was notified that Freitag had previously attempted to kill himself, had a mental health issue, and had made troubling statements recently, according to the case.
The lawsuit contends that the parties involved failed to watch over Freitag leading up to his death.
The county declined to comment on the litigation.