By Christen Smith | The Center Square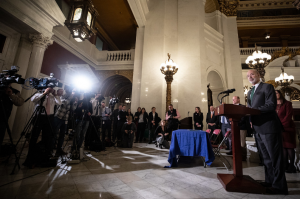 Gov. Tom Wolf signed the second phase of the Pennsylvania Justice Reinvestment Initiative on Wednesday despite backlash from some Democrats opposed to the mandatory minimums the legislation will re-establish.
Senate Bills 500 and 501 will create a new central advisory committee for county-run probation systems and an automatic release program after two years for those convicted of non-violent offenses, saving the state an estimated $45 million and reducing its inmate population by 600, according to data from the Pennsylvania Department of Corrections.
"These important pieces of legislation will cut red tape," Wolf said. "Reducing bureaucracy will result in savings of time and money, and we will reinvest those savings into criminal justice programs that reduce recidivism, increase public safety, and better serve victims of crime."
SB 500's prime sponsor, Sen. Lisa Baker, R-Luzerne, said the bipartisan package represents three years of negotiation built on the shared goal of streamlining costs and implementing "smarter sentencing." The Senate unanimously passed both bills in June.
But the package hit a snag last week when the House Judiciary Committee approved an amendment to SB 501 that re-established mandatory minimum sentences for sexual crimes against minors, unhinging the near-unanimous support for the bills in the chamber. Some 29 representatives and 11 senators voted against SB 501, including Senate Minority Leader Jay Costa, who said on Twitter "mandatory minimums don't work."
Wolf acknowledged the dissent at a news conference Wednesday, reiterating his stance against mandatory minimums while still conceding that the bills facilitate worthwhile criminal justice reforms.
"Not everyone is happy with every part of this bill, but this makes real progress," he said. "There are elements we can each take issue with, but Pennsylvania is in a much better place than it was before these bills were signed."
"When we look at who these people are, these are child rapists," Baker added. "These are very narrow mandatory minimums targeting child rapists."
The Pennsylvania Commission on Sentencing said the primary driver for savings under SB 501 will come from eliminating the Intermediate Punishment Program and replacing it with the State Drug Treatment Program, which will require an additional $400,000 investment in information technology "enhancements" over the next four years to comply with the legislation's mandates.
SB 501 prime sponsor Sen. Tom Killion, R-Delaware, said the provision will help "break the cycle of addiction" and make the state's criminal justice system more efficient.
"Emphasizing drug treatment and punishments other than incarceration for those convicted of non-violent crimes is the right thing to do for taxpayers, our communities, and the offenders themselves," he said.