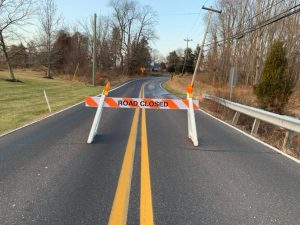 A portion of Eagle Road was closed Wednesday afternoon through Thursday due to a heating oil spill. 
Upper Makefield police said they were called to Eagle Road between Wrightstown and Stoopville roads around 3 p.m. Wednesday for a large oil slick on the pavement. They arrived to find a homeowner in the 600 block of Eagle Road removing a heating oil tank with the contents running into a drainage system. 
The heating oil tank contents were draining into a French drain system that led to a sump pump, which was pushing an oil and water mixture down the front yard and across the roadway. The mixture was found to be draining into the creek at the bottom of the hill, police said.
Eagle Road was closed as officers disconnected the sump pump, and the Upper Makefield Fire Company used booms to section off the heating oil.
The township's code enforcement officer, fire marshal, and emergency management coordinator responded along with the Bucks County Hazardous Incident Response Team coordinator, PennDOT, and the Pennsylvania Department of Environmental Protection.
Police said the investigation remained active.