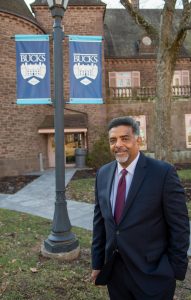 A new position at Bucks County Community College is being filled by a lawyer who is a U.S. Air Force Veteran.
Kevin L. Antoine started last week as the community college's first chief diversity, equity, and inclusion officer, who will oversee regulatory compliance and programs while working to cultivate an inclusive environment for the school, according to a statement and community college President Dr. Stephanie Shanblatt.
"My role is to serve as the campus' institutional liaison for diversity, equity and inclusion, and continue to build on the efforts that Dr. Shanblatt and the college have started," said Antoine. "Some of the positive steps Bucks has already taken include a recent campus climate survey and identifying the need for a strategic diversity plan."
A native of Mississippi, Antoine attended attended Mississippi Gulf Community College and earned his bachelor's degree from the University of Southern Mississippi before joining the Air Force. He then attended College of William and Mary School of Law to earn his law degree. In addition, he completed a Harvard University's Administrative Fellowship Program and earned a Fulbright Specialist Scholars Award.
During his career, he owned a human-resources consulting firm and served as an assistant vice president of diversity and inclusion at SUNY Downstate Medical Center in Brooklyn and several years as director of compliance and diversity at CUNY College of Staten Island. He previously worked as a clinical associate professor of health law and policy at SUNY Downstate Medical Center College of Nursing.
Having held similar posts in New York, Antoine commented on how his new job compares.
"Community colleges face the same challenges as four-year colleges regarding diversity and inclusion that include, but are not limited to, respecting differences and learning new perspectives while earning a college education," said Antoine. "Chief diversity officers are trained professionals in regulatory compliance, conflict resolution, equity, and inclusion."
"At Bucks, we are committed to ensuring a welcoming, inclusive environment for all students, faculty and staff," said Shanblatt. "We are grateful to add Kevin to our team to oversee such initiatives."
The community college has campuses in Bristol Township, Newtown Township, and Perkasie.