When Rev. Nelson Perez left the Archdiocese of Philadelphia in 2012 to serve as auxiliary bishop for the Diocese of Rockville Centre in New York, he never thought he'd be back.
Perez, 58, who has served as the bishop of the Diocese of Cleveland since 2017, was announced on Thursday by Archbishop Charles Chaput as his successor chosen by Pope Francis.
Before a room full of reporters, Perez recalled learning last week that he would be taking the archbishop job in the Philadelphia region while visiting his mother in Florida.
"You're kidding me," said Perez of his reaction when he learned from church management that he was returning to Philadelphia.
"I am deeply grateful to the Holy Father for this appointment and his confidence in me. It is with great joy tinged with a sense of sadness that I accept the appointment – joy that I will be returning to serve the archdiocese in which I was ordained to the priesthood, where I served as the pastor of two parishes and where I held several leadership positions within the Archdiocese, and sadness that I will be leaving an area and the incredible people in Northeast Ohio I have come to love deeply," Perez said.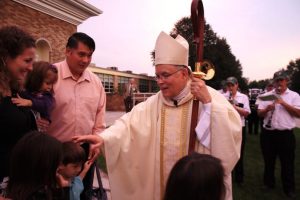 Chaput, who became archbishop in 2011, turned 75 last September. Catholic law requires that bishops tender their resignation to the pope when they hit 75.
The Archdiocese of Philadelphia said Perez will be installed on Tuesday, February 18.
"This is a moment of great satisfaction and joy for the clergy and people of the archdiocese, and for me personally," Chaput said.
"When I first spoke with the nuncio about my retirement and this transition last May, I asked for a successor who would care for and guide our people, speak the truth with conviction, and live a faithful witness to Jesus Christ. Archbishop Perez is a man who already knows and loves the Church in Philadelphia, and is already known and loved by our priests and people," he added.
When speaking of the sexual abuse scandal and other challenges of the Catholic church, Perez said he was not afraid to "do what needs to be done for the good of the family."
Perez was ordained a priest for the Archdiocese of Philadelphia in 1989 and served in the region until he was transferred to New York in 2012.
Perez, whose parents emigrated from Cuba to America, is the first archbishop of Hispanic heritage in the local archdiocese.