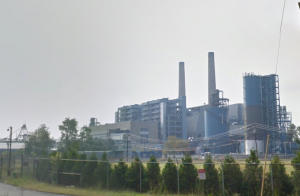 The loud rumbles that were heard and even felt throughout Lower Bucks County Saturday morning were caused by the partial implosion of a nearby power plant.
Photographer Dennis Symons, who posted a foggy video of the demolition on YouTube, said large chimneys and a building at the Mercer Generating Station were taken down by implosion at the closed Hamilton Township, New Jersey, coal-burning power plant.
Emergency authorities warned New Jersey residents that loud noises were expected Saturday morning.
The demolition could be heard from as far up the Delaware River as New Hope and Upper Makefield and all the way to Bristol Borough. A resident of Bristol Township's Levittown section sent an email confirming the noise was heard while out on a walk along New Falls Road and a man working in Morrisville said he heard the booms.
The former power plant sits across from Biles Island in Falls Township and next to the Duck Island terminal in a relatively wooded area dotted with industrial sites.
The coal power plant opened in the 1960s and closed in June 2017, NJ.com reported.
The Mercer Generating Station was sold last year to Hilco Redevelopment Partners. The firm is taking down the plant to create regional warehouse distribution hubs for businesses, according to utility giant PSE&E, the former plant operator.