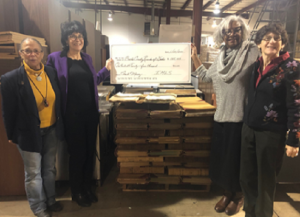 Bucks County Recorder of Deeds Robin Robinson's drive to preserve deed books has received a boost thanks to a federal grant.
The $125,000 grant was awarded recently to the Recorder of Deeds by the National Park Service in conjunction with the Institute of Museum and Library Services (IMLS).
The federal money came through the Save America's Treasures program that aims to fund preservation of nationally significant historic collections.
Robinson's office has deed books and records that cover land, other property, and slaves who were trafficked and also freed. The records date back to the 1684. The Recorder of Deeds said the slave records are special because many of the documented releases from slavery took place before the Civil War.
"It's exciting, this is what we've been searching for, the true history of Bucks County. And now it will be revealed. I'm grateful to be a part of this, to share this history with all of Bucks County and the world," said Linda Salley, president of the African American Museum of Bucks County.
The funds will help send 61 books for preservation.
"As a history teacher for over two decades, I fully appreciate and support efforts to preserve our shared history," Bucks County Commissioner Bob Harvie said. "I want to thank the Recorder of Deeds, Robin Robinson, and the National Park Service for securing grant funding for this important project."
The Recorder of Deeds has led an effort to preserve deed books that date back to 1684 using county funds, municipal grants, and donations from residents. So far, dozens of books have been preserved and the records dating back to the 1600s have been digitized.