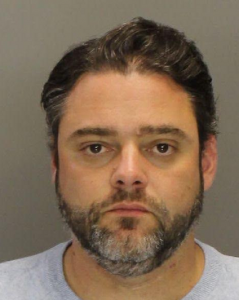 The owner of a popular Wrightstown eatery has been charged with shooting a pellet gun at homes in Solebury and Upper Makefield townships.
Andrew Patrick Abruzzese, 36, of Upper Makefield, was charged Tuesday with two counts of discharge of a firearm into an occupied structure and criminal mischief, and seven counts of reckless endangerment following an investigation by Solebury and Upper makefield police. 
Abruzzese, an accomplished restaurateur, runs the Pineville Tavern, a popular staple in Wrightstown that has gained national attention.
In court papers filed Tuesday and first reported by Patch.com, Solebury police responded to the cul-de-sac in the 700 block of Darley Circle just after 12:30 a.m. on Tuesday, February 4 for a home struck by pellets from a pellet-type gun.
Officers reviewed surveillance video that showed what appeared to be an Audi pull into the cul de sac. The car stopped in front of a Darley Circle home, backs up, and several shots are heard. The car then moves and additional pellets were discharged toward the home, police said. 
Investigators said there were two adults and two children in the home when the incident occurred. Numerous windows and a vehicle suffered "significant damage."
The residents of the Darley Circle home that appeared to be targeted said Abruzzese said they were past friends with the 36 year old but they had a falling out. The residents said the restaurateur had previously harassed and threatened them, police said, adding the residents noted the Audi matches one Abruzzese uses. 
The residents of a home in the the 20 block of Jericho Run in Upper Makefield had their residence damaged by pellets around 11:42 p.m. on Monday, February 3. The car at the scene appeared to match Abruzzese's Audi, police said. 
The second home was also damaged. At the time, one adult and two kids were inside, police said.
An anonymous source told police that on February 3, Abruzzese requested an employee of his business place a carbon dioxide canister outside so he could pick it up around 10:45 p.m. The next day, Abruzzse's silver Audi was outside The Pineville Tavern with what appeared to be a pellet gun and the canister, according to court papers.
Abruzzese was arraigned before District Judge Maggie Snow on Tuesday morning. He was released on $50,000 unsecured bail.
Abruzzese did not immediately respond to a request for comment. 
Editor's Note: All individuals arrested or charged with a crime are presumed innocent until proven guilty. The story was compiled using information from police and public court documents.