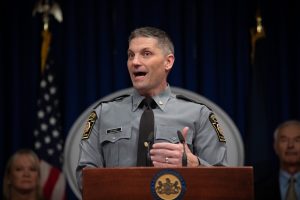 A Pennsylvania State Police trooper's uniform doesn't look like many others in the state. One noticeable change is the lack of a badge.
While many, if not all, municipal police officers wear a metal badge or have one embroidered on their uniforms, troopers don't.
All troopers receive all season, summer, and winter uniform sets, in addition to their iconic straw and felt campaign hats. They also receive a metal badge, a nameplate, and ID card, but don't don them if they're in uniform, according to state police policy.
In a recent video, Trooper Brent Miller said state police – the first in the nation when created in 1905 – wore uniforms modeled after European constable attire. The uniforms featured troop numbers and ID numbers. By the 1959, trooper outfits changed and officials believed that the patch and look of the uniform was sufficient.
"Based on tradition, troopers do not wear a badge on their uniform. Our patch is a callback to the rich history of the department," he said.
The current state police patch was designed in 1988.
Troopers assigned to specialized units do wear badges in lieu of a uniform, Miller said.