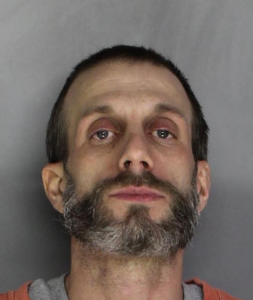 On Wednesday, the Bucks County District Attorney's Office said an alleged business burglar has been accused in 21 separate incidents.
David Anthony Andrauskas, 37, of Philadelphia, is accused of hitting businesses in Newtown Borough, New Hope Borough, Middletown Township, Newtown Township, Upper Makefield Township, Bensalem Township, and Bristol Borough between January 12 and February 8. He has been charged with the majority of the incidents and remains in the Bucks County Correctional Facility unable to post bail.
Below is a listing of the alleged burglaries:
New Hope
Last Temptation, Jan. 21
Phantasm Comics, Jan. 25
Lion's Den, Jan. 31
Surrender, Jan. 31
Night Bird Vintage, Jan. 31
Jaffron, Jan. 31
Bensalem
Belly Busters, Feb. 5
Brodie's Ice Cream, Feb. 4
Bristol Borough
Annabella's Restaurant, Feb. 6
Chuck's BBQ, Feb. 6
Upper Makefield Township
Newtown Borough
Shoe Café, Jan. 12
Clark's Florist, Jan. 18
Studio 35 Salon, Jan. 23
Middletown Township
CJ Nails, Feb. 8
Giovanni's Pizza, Feb. 8
Maple Deli, Jan. 28
Newtown Township
Green Straw, Feb. 1
Newtown Pizza, Feb. 1
Be Bronzed, Feb. 1
Bella Med Spa, Feb. 1
Early in February, reporters from the New Hope Free Press, LevittownNow.com, and NewtownPANow.com reviewed a number of recent mom-and-pop shop burglary cases and spotted several similarities, including the look and attire of the suspect in surveillance system images that were released by investigators. In many of the incidents, the suspect went for the cash register, skipping other items that might be easily taken in the early morning hours.
Andrauskas was arrested at his home on Saturday, February 8 following an early morning high-speed chase that started after an officer pulled him over on Haunted Lane in Bensalem. Andrauskas fled down State Road toward Philadelphia at speeds as high as 100 mph.
Prosecutors said Andrauskas made off with as much as $2,000 from one business, but the majority of his takes were much smaller. In some cases, he didn't make off with any cash.
Following his arrest, Andrauskas admitted to a number of recent business burglaries in the county.
The district attorney's office will consolidate the numerous burglary cases for prosecution.
In 2010, Andrauskas pleaded no contest to burglary in Bensalem and served jail time. He was found guilty and served probation for drug offenses in Philadelphia in 2013 and 2015. He was charged in Philadelphia for stealing the "poor box" at a church in Northeast Philadelphia last summer, according to court records.
New Hope Free Press Publisher Charlie Sahner contributed to this report.