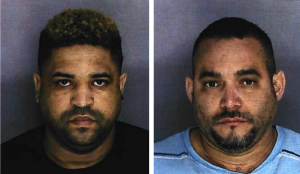 Two alleged drug dealers were locked up after an investigation by county, state, and federal law enforcement.
Winston Frias-Moya, 31, and Adalberto Villalona, 43, both of Philadelphia, were charged with possession with intent to deliver heroin, dealing in proceeds of unlawful activities, criminal conspiracy, and other counts related to the possession and sale of narcotics.
Bucks County authorities said they monitored February purchases of suspected heroin and fentanyl from Frias-Moya and Villalona, including one in Lower Bucks County. The duo reportedly delivered 101 bricks of suspect drugs, totaling 5,050 bags of suspected heroin in more than $13,000.
The suspected drugs carried the name "bad b*tch."
The drugs have been sent away for lab testing, but a field test showed positive results for heroin, authorities said.
Frias-Moya was arraigned and jailed on 10 percent of $1,000,000. Villalona was locked up on 10 percent of $750,000.
The arrests came through the work of High Intensity Drug Trafficking Area partners in the Bucks County Detectives Drug Strike Force and the U.S. Department of Homeland Security Homeland Security Investigations with assistance from Pennsylvania State Police and Bensalem police.
Editor's Note: All individuals arrested or charged with a crime are presumed innocent until proven guilty. The story was compiled using information from police and public court documents.